Thirteen films from La Nouvelle Vague.
The Criterion Channel is showing 45 movies entitled French New Wave. I have chosen to write a little appreciation of my favorite thirteen movies on the list: Four are directed by Godard, three by Truffaut, two by Resnais, and one each by Chabrol, Demy, Malle, and Varda.
The Criterion Collection begins the series with what is really a forerunner of the film movement, Agnès Varda's debut "La Pointe Courte" or "Short Point". However, the movement proper is thought to begin with Claude Chabrol's "Le Beau Serge" three years later. My favorite thirteen films were made between the years 1958 and 1964 at the height of La Nouvelle Vague. This was before Jean-Luc Godard seemed to lose his joy in making movies. In addition, the "style" of the movement began to fall apart around 1964. I don't think that it was a good idea to continue the series into the early eighties. By this stage, Francois Truffaut was turning out mediocre stuff like "The Last Metro", a pale imitation of his glory days. In other words, to borrow a line from Godard, he ended up making the type of movies that he criticized with such passion as a film critic for Cahiers du Cinéma in the 1950s.
The Left Bank and New Modern Cinema.
As with a lot of New Wave retrospectives, the program includes the works of some French film directors who were part of different film movements. For instance, the Left Bank (Alain Resnais and Varda herself) and New Modern Cinema (Louis Malle). These movements are often lumped with the French New Wave.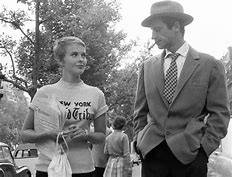 The Cinematographers
Kudos to the great cinematographer Raoul Coutard. He gave the French New Wave its "look". And Henri Decaé who preceded him and photographed "The 400 Blows" and Le Beau Serge". Working with Alain Renais and Agnès Varda, respectively, Sacha Vierney and Jean Rabier also deserve mention.
So, welcome to La Nouvelle Vague Français and its world of jump cuts, long takes, endless montages, and the chicest of movie stars.
YEAR
MY RATING
FILM
DIRECTOR
(cinematographer)
FILM GROUP
1958
A
Elevator to the Gallows (Ascenseur pour l'échafaud)
Louis Malle's Debut.
Jeanne Moreau

The direct translation is "Elevator to the Scaffold".
Louis Malle
(Henri Decaé)
Film Noir.
New Modern Cinema.
(French New Wave)
1958
B+
Le Beau Serge (Handsome Serge)
Chabrol's Debut
GENERALLY RECOGNIZED AS THE FIRST FRENCH NEW WAVE FILM.
Jean-Claude Brialy and Gérard Blain also feature in Chabrol's next film, "Les Cousins" (1959), which you can also see on The Criterion Channel.
Claude Chabrol
(Henri Decaé)

Nouvelle Vague
1959
A+
The 400 Blows (Les Quatre Cents Coups)
Truffaut's Debut
The Greatest French New Wave Film
Jean-Pierre Léaud
Francois Truffaut
(Henri Decaé)
Nouvelle Vague
1959
A-
Hiroshima My Love (Hiroshima Mon Amour)
Renais' Feature Debut
Emmanuelle Riva
Alain Resnais
(Sacha Vierney)
Rive Gauche
1960
A+
Breathless (A Bout de Souffle)
Godard's debut
The second greatest and most emblematic French New Wave Film
Jean Seberg
Jean-Paul Belmondo
Jean-Luc Godard
(Raoul Coutard)
Nouvelle Vague
1960
B+
Shoot the Piano Player (Tirez sur le Pianiste)
Charles Aznavour
Francois Truffaut
(Raoul Coutard)
Nouvelle Vague
1961
B+
Lola
Demy's Debut
Anouk Aimée
Jacques Demy
(Raoul Coutard)
Nouvelle Vague
1962
A–
Cleo from 5 to 7 (Cleo de 5 à 7)
Varda's second film follows "La Point Courte" (1955).
Corinne Marchand
Agnès Varda
(Jean Rabier)
Rive Gauche
1962
A-
Jules and Jim (Jules et Jim)
Jeanne Moreau
Francois Truffaut
(Raoul Coutard)
Nouvelle Vague
1962
A–
My Life to Live (Vivre sa Vie)
The second of eight Movies that Godard made with actress Anna Karina.
Jean-Luc Godard
(Raoul Coutard)
Nouvelle Vague
1963
B+
Muriel
Delphine Seyrig
Alain Resnais
(Sacha Vierney)
Rive Gauche
1963
A
Contempt (Le Mepris).
Brigitte Bardot's most unforgettable performance.
Godard goes Hollywood – a little.
The haunting score is by Georges Delerue
Jean-Luc Godard
(Raoul Coutard)
Nouvelle Vague
1964
A–
Band of Outsiders (Bande à part)
Godard's most joyous film with its two unforgettable sequences:
the run through the Louvre Museum
and the famous dance scene with Franz, Arthur, and Odile (Claude Brasseur, Sami Frey, and Anna Karina) doing la danse de "Madison" (the "Madison" dance).
Music composed by Michel Legrand.
Inspiration for the Uma Thurman/John Travolta number in "Pulp Fiction".
Jean-Luc Godard
(Raoul Coutard)
Nouvelle Vague