"Jeanne Dielman, 23, Quai du Commerce, 1080 Bruxelles"
Although released in Europe in 1975, "Jeanne Dielman" Chantal Akerman's feminist masterpiece was not shown in the USA until 1983. We, the audience, observe three days in the iterative daily life of a widowed woman and single mother. The duration of 3 hours and 21 minutes requires a major commitment on the part of the viewer. However, like many classic movies, it rewards us with many pleasures. The film's everyday details of this loving and caring mother contrast with her life as a prostitute. She welcomes clients into her home with the detached and mechanical demeanor we see in her other daily activities.
There is no backstory, and we never know how or why Jeanne arrived at this point. No one speaks her name in the film. We only glimpse it in a letter she reads to her son.
There are a few brief scenes where she shops and stops for coffee. However, the film is mainly a closed-door affair in Jeanne's apartment. Mostly in her kitchen. In a series of long takes, the camera captures Jeanne in a medium shot. We see her making coffee, washing dishes, making the bed, taking out the garbage, and bathing after sex. As the viewer settles into the film, Jeanne's routines fascinate us. And they are all the more hypnotic because Delphine Seyrig ("Last Year at Marienbad") does something amazing. Although she disappears into her role as Jeanne, she is still an actress of style and great beauty. A great star.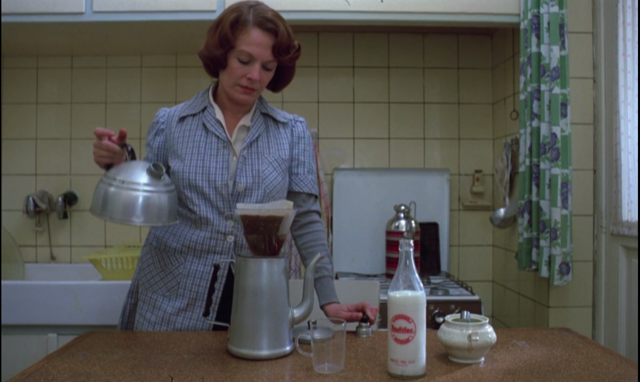 By the second day, however, you notice subtle changes in Jeanne's rituals. Trivial things at first, like the dropping of a newly washed spoon. After that, as the movie progresses, we realize that Jeanne is slowly losing her mind before our eyes. A sense of unease settles over us. We have a hunch that something terrible will happen, and it does.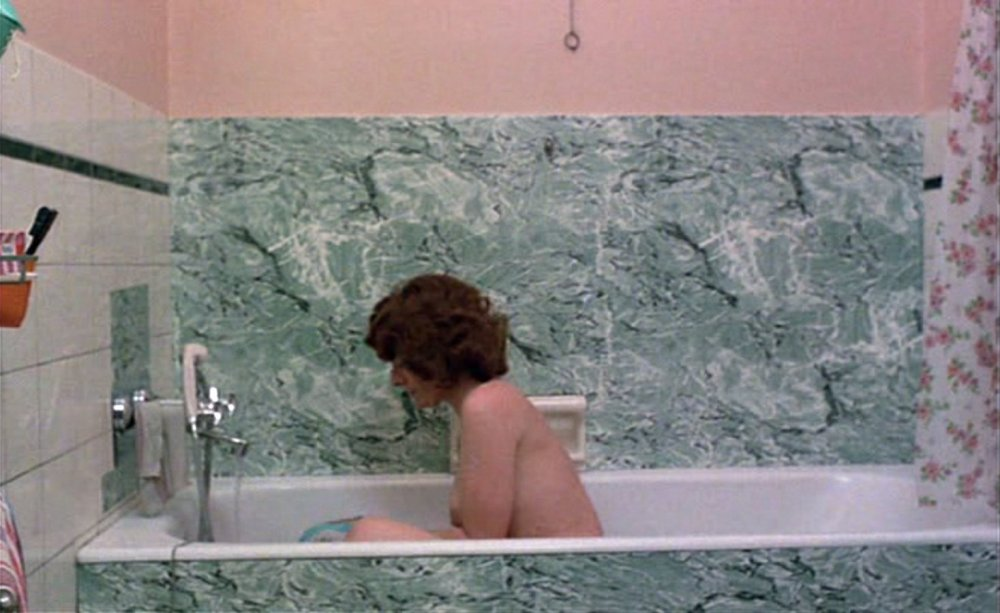 Akerman, who committed suicide in 2015, was born in Brussels to Holocaust survivors. Her mother, unlike her grandparents, survived Auschwitz. They would be exceptionally close throughout their lives. The daily details of Jeanne's life were influenced by those of her mother and her beloved aunt. The Jewish religious rituals of her childhood also played a role. That said, Akerman hated labels, whether they were "feminist," "Jewish," or "lesbian." Although "Jeanne Dielman" predates Ruby Rich's coining of the term "New Queer Cinema" in "Sight & Sound" in 1992, Akerman was considered by many to be a key representative of that movement.
"Jeanne Dielman" was shot with an all-woman crew. Akerman insisted on it., Cinematographer Babette Mangolte does some astonishing work here. From her lighting, you can feel the hours go by. Fifty years before the Academy nominated its first two female cinematographers, she was a pioneer and an innovator in lighting carefully designed interiors. She is now a professor at the University of California, San Diego.
"Mrs. America's" Haunting Final Scene.
Recently, on Hulu, "Jeanne Dielman" was the obvious inspiration for the closing scene of "Mrs. America". Cate Blanchett's Phyllis Schlafly, after hearing from Reagan himself that she will not be part of his cabinet, defeated, retreats to the kitchen. There, she robotically peels one apple after another. Right before our eyes, we are witnessing the renaissance of Jeanne Dielman. That Akerman's feminist masterpiece is used as the inspiration for the conclusion of a series about a woman who considered herself an antifeminist should be antithetical. Yet it is not.
"Jeanne Dielman, 23, Quai du Commerce, 1080 Bruxelles" is available for streaming on the Criterion Channel.