In this superb movie, which debuted during Critics' Week at the 2021 Cannes Film Festival, the wondrous Adele Exarchopoulos ("Blue is the Warmest Color") gives a stunning performance as a flight attendant handling the grueling task of working for the low-cost carrier "Wing Airlines" (fictional, but based on Ryan Air) who have their headquarters in Lanzarote on the Canary Islands. A French/Belgian production, the movie is predominantly in English (the international language of flying), which Exarchopoulos speaks with a flat, moderately accented delivery. The latter third of the film, when her character Cassandre goes to visit her dad and sister near Brussels, the characters speak predominantly (Belgian) French.
An extraordinarily assured directorial debut by its two French writers/directors Emmanuel Marre and Julie Lecoustre, the title means "I Don't Give a Fuck" (unfortunately labeled "Zero Fucks Given" for its international release), and that is precisely the attitude that Cassandre gives off for most of the movie whether she is drifting through work, living with her crew on call, partying in night clubs, and having brief sexual encounters with strangers from dating apps.
And yet, we feel that there must be more to Cassandre than this. Despite her "I don't care" attitude, her team always sells more duty-free goods on their flights, and there are rumblings of a possible interview with Emirates. Marre and Lecoustre wisely populate the movie with real flight attendants – these documentary touches add to the movie's overall effect – so that Exarchoupoulos is the only professional actor on screen for the first ninety minutes or so. This decision pays off when our leading lady gets to show off her acting chops in three memorable scenes:
One is when she is walking on a promenade and gets a call from her cell phone company, who is trying to switch her to a different plan. The discussion eventually leads to the fact that her current contract was inherited from her recently deceased mother who died in a freak automobile accident. As the sales lady keeps pushing her, we feel Cassandre sink deeper and deeper into despair, and then, the killer moment: a single tear rolls down her cheek!
Onboard the plane, when she is catering to the "guests," despite her "rien à foutre" attitude, she is all business. In these scenes, she reminded me of Delphine Seyrig's housebound mother in "Jeanne Dielman" – a great star disappearing into her menial tasks while continuing to project star quality.
During an advancement course, she attends, we get a series of short takes as she and her fellow flight attendants look into a camera for 30 seconds as they pretend to welcome the new "guests" to the cabin. While her colleagues – the non-actors – mostly display a single emotion, Cassandre's face goes through what we know she has felt during our time with her.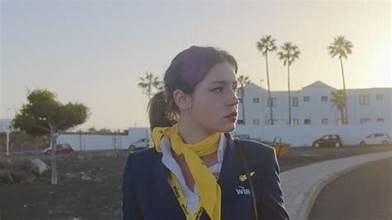 As the movie progresses, and we learn more about her mother's death, we realize that Cassandre's seemingly blasé attitude and supposed lack of consideration for her future may be her way of shielding herself from emotional pain. This becomes clearer when she visits her sister (Mara Taquin) and father (Alexandre Perrier) in Belgium in the latter third of the movie. There is a change of pace here and a major change of tone. It is a risky move but the directors pull it off. The family scenes are just as involving, just as captivating, as Cassandre's scenes at work. And, through it all, Exorchoupoulos is spellbinding. A star is reborn!
NOW STREAMIMG ON MUBI