Maika Monroe gives Chloe Okuno's "Watcher" a touch of class.
Making her directorial and screenwriter debut, Chloe Okuno serves up quite the psychological thriller/horror movie with "Watcher." A reworking of an earlier screenplay by Zack Ford, the film opens on a rainy night in Bucharest, where Julie (Maika Monroe) and her husband, Francis (Karl Glusman), are being transported from the airport to their new lodgings. He has just got a promotion, and she, an ex-actor turned stay-at-home-house person, is destined to spend long days and evenings at home while he slaves at the office. What's more, it's clear from the conversation in the taxi that she does not speak a word of Romanian and that Francis does not translate accurately, treating her with a vaguely patronizing attitude.
Their apartment has an enormous window which, of course, opens out onto a square with lots of other windows, and before you can say "Rear Window," Lucie notices a creepy visage in one of the windows watching her at night. And when she waves, he waves back. Meanwhile, a serial killer is on the loose, his latest victim only a few blocks from their apartment building.
One afternoon, the man in the window follows Lucie into a cinema (showing "Charade") and then into a supermarket. Neither her husband nor the police believe her. Only her next-door neighbor, Irena (Mădălina Anea), an exotic dancer, lends a sympathetic ear. However, we know that on the horror chessboard, Irena is eminently disposable.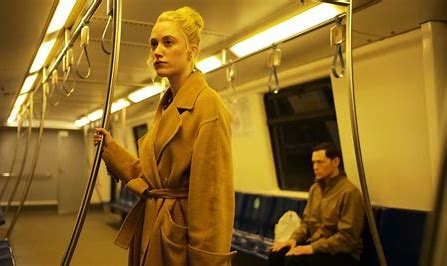 In her desperation, having identified the man (a brilliantly creepy Burn Gorman) from the surveillance video at the supermarket, she starts to follow him around the streets of Bucharest. The hunter becomes the hunted. Is she accusing an innocent man?
Referencing several films along our journey (Polanski's "Repulsion" to Argento's "Suspiria" to the aforementioned Hitchcock and Donen), director Okuno never lets the tension decrease, and there is one scene in a subway car in the dead of night, which will have horror fans applauding.
However, none of this would have worked without the marvelous performance of Miss Monroe, who shares with her namesake a beauty and star quality that gives any movie in which she appears a touch of class. Like all those beautiful blond Hitchcock heroines, she is style incarnate.
NOW SHOWING ON AMAZON PRIME VIDEO AND ON APPLE TV+