"Tár" should have been "My Dinner with Lydia." The behind-the-scenes machinations of the orchestra wear us down, and Blanchett's performance becomes increasingly technical and less believable. She was going through the motions, and I believed less and less in her as a conductor.
Writer/director Todd Field's return to filmmaking after a 16-year absence has resulted in critics stepping over one another to praise him and his great star Cate Blanchett. I must admit that I did love the opening 15 minutes. However, I thought the rest of the movie was meh!
We are at The New Yorker Festival, and the magazine's acerbic "Critic at Large" Adam Gopnik (you know, the one who goes on and on and on in print, but he is genuinely fun here) is interviewing the great conductor Lydia Tár who is played to the hilt by Blanchett.
Lydia is the principal conductor at the Berlin Philharmonic, an astonishing and improbable achievement for a woman in a profession where male dominance at the podium is the ultra-norm. It may help that she is a self-professed U-Haul lesbian, and her wife (the wonderful Nina Hoss) is the orchestra's chief violinist.
Is Lydia supposed to be the musical equivalent of queer filmmaker extraordinaire Céline Sciamma?
The fact that Lydia's chief assistant, who serves her every whim but is an excellent conductor-in-waiting herself, is played by Sciamma regular Noémie Merlant adds fuel to that notion. And I loved how Merlant mouthed Gopkin's opening remarks to the audience as she wrote them!
Lydia is supposed to be an EGOT (Emmy, Grammy, Oscar, Tony), but this factoid only semi-blends with the person we see in the theatre. A person who seems more at home doing ethnographic research up the Amazon and enthralls us with the details of her highly technical findings.
Lydia has written a book with the, shall we say, Dylaneque title "Tár on Tár." Is this an easy in-the-know Dylan joke by Field, or is he getting ultra-meta on us and double-referencing Cate's turn as Bob in Todd Hayne's "I'm Not There"?
Lydia, it transpires, was mentored by the great Leonard Bernstein (we see a lot of him on tape), and like him, she has a passion for Mahler. She has recorded all of "Them" except for Symphony No. Five, the recording of which will complete the boxed set and take up most of the rest of the movie.
However, no one, including the director or the leading lady, seems to have stopped and thought about the time difference between these two maestros. By my calculations, Lenny would have been teaching Lydia when she was five (he died in 1990).
This anachronism is the first clue that everything is not what it seems in this (supposedly) well-researched film.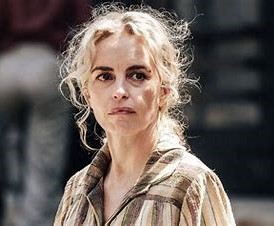 Blanchett is having fun here. She uses her deep voice to profound effect and is constantly fiddling with her left ear, something that great conductors do, I guess? I found this endlessly fascinating! She hits the spot, dropping one famous musical name after another (Oscar winner Hildur Guðnadóttir, the film's musical director, is mentioned). She seems genuinely inspired when she talks about Leonard, Gustav, Alma, and Walter (Gropius) and how "the 5th" differs from the other symphonies because of L-O-V-E. However, we also know that this is a cop-out. Thanks to Visconti and "Death in Venice," even that part of the population who have never listened to a single piece of classical music in their entire lifetimes know the 5th's Adaggitto.
The massive problem with "Tár" is that it begins and ends with Gopnik's interview. And we still have two hours to go. There is a reason that Field has been away so long, I think. He can be a terrible director. He is good with actors – witness Sissy Spacek and Tom Wilkinson in "In the Bedroom" – but his films are shapeless and moribund and lack any discernable directorial style. This lack of technique was particularly true of his second and, up to now, last film, "Little Children," a movie which, for me, still holds the record for:
Worst voice-over narration. Rarely has this occasionally overused and lazy technique resulted in such a rambling chronicle. I jumped ahead of our all-knowing storyteller so often I was beginning to feel clairvoyant!
Worst masturbation scene. So bad that you gradually supplanted the masturbator and his unfortunate date with the actors playing them (Jackie Earl Haley and Jane Adams, respectively), felt sorry for them, and hated the less-than-enlightened director for putting them in this position.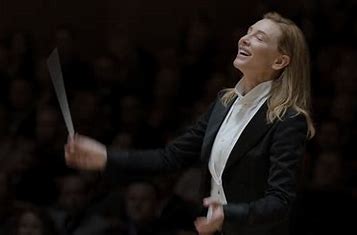 The same thing happens here. After the interview, Lydia is off to Julliard to teach a class in conducting. However, this is just an opportunity for Field (through Lydia) to give us his weigh-in on the Cancel Culture thing. So, he presents us with an easy target for Lydia to take down. He provides us with a student who identifies as BIPOC pangender (I mean, give us a break, "he/she/they" even has a nervous tick!) and, therefore, does not feel comfortable with cis white male composers such as Bach. It's an easy set-up so Lydia can take this brat down a peg or two and for Field to get a liberal automatic response from his well-heeled audience. Blanchett could just as well be Frances McDormand when she similarly eviscerated the Catholic priest in Martin McDonagh's equally gratuitous "Three Billboards." The sheer stupidity of this teacher-student back-and-forth is expanded later in the movie when the authorities in Berlin take seriously a blatantly edited video of the teaching session. One that makes Lydia out to be the villain.
Oh yes, Berlin. Fans of the Elgar Cello Concerto, Jacqueline du Pré, and real-life cellist Sophie Kauer (very credibly playing Lydia's latest protégée) get a reprieve. However, the behind-the-scenes machinations of the orchestra wear us down, and Blanchett's performance becomes increasingly technical and less believable. I felt she was going through the motions, and I believed less and less in her as a conductor. A former student (and lover), whom Lydia bullied and then ostracized, commits suicide. And wouldn't you know it! She has kept many incriminating e-mails (at least one addressed to our beloved maestro at Disney Hall warning him not to hire her) that a four-year-old wouldn't be lying around. This signals the beginning of her downfall.
Hoss has a few good scenes as the ever-patient wife, and Mark Strong is always waiting in the wings as the Uriah Heep of orchestra conductors. However, the film gradually runs out of steam, arriving at not so much an outcome as a surrender.
It was then that I had an epiphany! Todd Field should do a sequel of sorts to "Tár." A remake of the Louis Malle classic, he could call it "My Dinner With Lydia," with Blanchett's Lydia taking the place of the world-wise André Gregory and Gopnik following in the footsteps of the fawning Wallace Shawn. That way, he could swap Mahler for Satie, deepen his New Yorker credentials, and extend that glorious opening fifteen minutes into ninety minutes of bliss.
NOW SHOWING ON AMAZON PRIME AND APPLE TV+
https://thebrownees.net/mrs-america-the-great-cate-blanchett-and-chantal-akerman/