Joan Crawford is Mildred and Ann Blyth, is Veda, the most ungrateful daughter in cinema history. It's drama and camp blended to perfection, and we are watching Michael Curtiz's 1945 film noir masterpiece "Mildred Pierce".
I love "Mildred" for its dogged lack of subtlety in the health department. It reminds me that when a character coughs, just once, in a pre-1960 Hollywood movie, you know that he or she will be dead in the next scene or certainly in the scene after that. Remember poor Elizabeth Taylor in "Jane Eyre". From the first delicate Cough! You knew she was a goner. Unfortunately, this very scenario plays out in "Pierce" with Veda's younger sister Kay. You know, the good daughter. With just one Cough! we know that Kay's fate is sealed and that her chances of surviving the trip to Big Bear with Veda and their unfaithful daddy Bert are slim!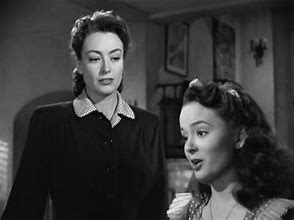 She does make it back to Glendale but in an oxygen tent. As a result, one of the best moments in the film, the saddest and the campiest, is when poor Kay takes her last breath. Even before Joan or Veda has had time to react, the nurse is turning off the precious oxygen.
This scene never ceases to send me into paroxysms of laughter. And then you realize that the amazing gift of "Mildred Pierce", just like "Baby Jane", is that it plays as drama and camp simultaneously with no dichotomy involved. Directors Michael Curtiz and Robert Aldrich pulled off a rare feat. And for that, I am always incredibly grateful.
CREDITS
Director: Michael Curtiz
Cinematography: Ernest Haller
Screenplay: Ranald MacDougall
Production Design: Anton Grot
Music: Max Steiner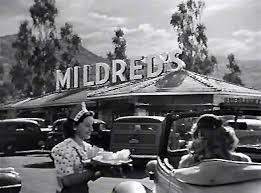 THE PLAYERS
Joan Crawford as Mildred Pierce Beragon
Ann Blyth as Veda Pierce Forrester
Jack Carson as Wally Fay
Zachary Scott as Monte Beragon
Eve Arden as Ida Corwin
Bruce Bennett as Albert "Bert" Pierce
Butterfly McQueen as Lottie
Lee Patrick as Mrs. Maggie Biederhof
Moroni Olson as Inspector Peterson
Mildred Pierce is available for streaming on Amazon Prime Video and Apple TV