DIRECTOR: Joseph L. Mankiewicz
PRODUCER: Darryl F. Zanuck for TCF
BOTTOM LINE:
 A masterpiece from one of the greatest screenplays ever written (by Mankiewicz from Mary Orr's short story "The Wisdom of Eve") highlighting the greatest, the most cherished, the most quoted, and the most imitated performance of all time by Hollywood's greatest actress Bette Davis as Margo Channing. Addison and Eve are gay, and he blackmails her.
That I should want you at all suddenly strikes me as the height of improbability, but that, in itself, is probably the reason. You're an improbable person, Eve, and so am I. We have that in common. Also a contempt for humanity, an inability to love and be loved, insatiable ambition – and talent. We deserve each other…and you realize and you agree how completely you belong to me?

Addison DeWitt (George Sanders) blackmailes Eve Harrington (Anne Baxter), exposing her lies and treachery.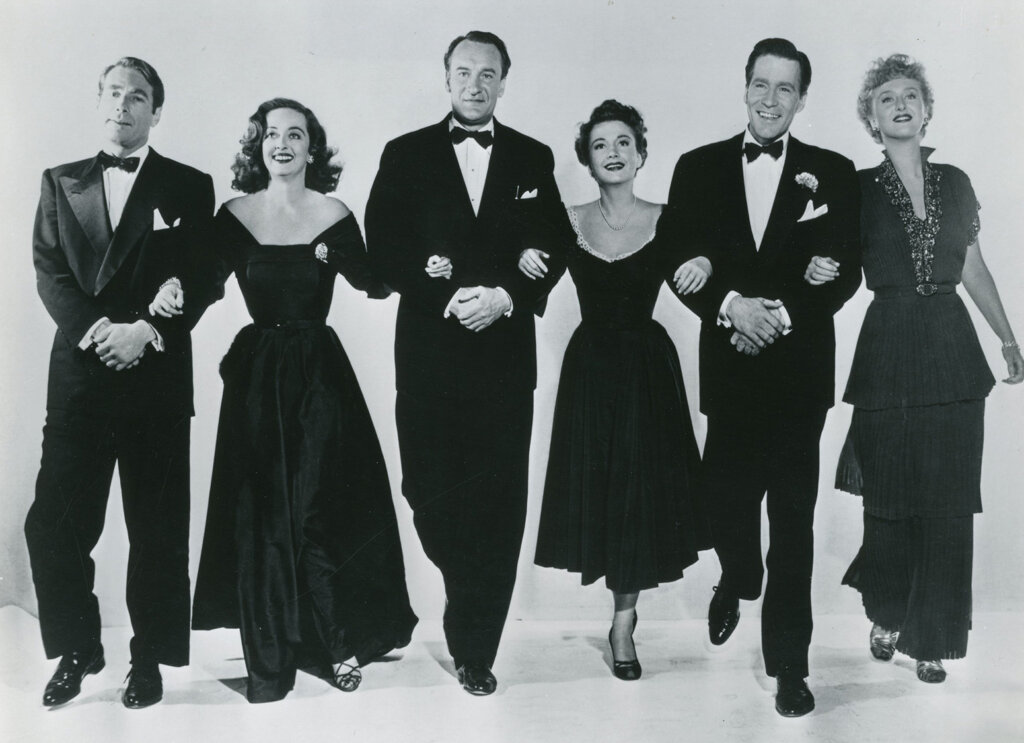 With one of the greatest casts ever assembled for a motion picture: Left to Right pictured above: Gary Merrill, Bette Davis, George Sanders, Anne Baxter, Hugh Marlowe, and Celeste Holm. Also Featured were Thelma Ritter (getting the first of her six best supporting actress nominations), Gregory Ratoff, Cuddles (S.Z. Sakall), Barbara Bates, and, making quite an impression in her second major part (after "The Asphalt Jungle" over at MGM), Miss Marilyn Monroe.
CATEGORY: My Favorites
SUBCATEGORY: Queer Film | Other Directors of Interest
STREAMING: Amazon Prime and Apple TV+