Jane Campion (The Power of the Dog)
David Fincher (Mank)
Alejandro González Iñárritu (Bardo)
Alfonso Cuarón (Roma)
Martin Scorsese (The Irishman)
Joel and Etan Coen (The Ballad of Buster Scruggs)
Pedro Almodovar (Parallel Mothers)
Paul Sorrentino (The Hand of God)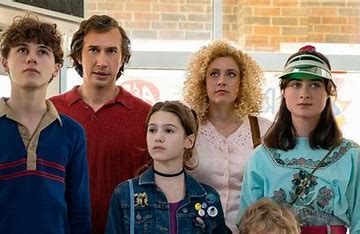 With the adaptation of Don DeLillo's 1985 absurdist comedy-drama "White Noise," what do Noah Baumbach and the eight directors listed above have in common? Well, all have been given carte blanche to make a masterpiece, no expense spared, and for the most part, we have to agree that Netflix's money was well spent. Two directors won Oscars for their work, two were nominated for Best Director, and three delivered movies containing some of their best work. The jury is still out on Iñárritu's "Bardo," but for all its self-indulgence, it does have some magical passages.
This is Baumbach's first time adapting a novel – all of his previous films including his masterworks "The Squid and the Whale", "Frances Ha", "Mistress America" and "Marriage Story" were original screenplays and two ("Francis Ha" and "Mistress America") in addition to "White Noise" star his current partner Greta Gerwig. That he picked "White Noise" as his first sojourn into another author's mindset shows what a confident and adventurous writer/director he is. This novel, over the years, had a number of false starts in Hollywood, and many, including myself, had thought it unadaptable. That Baumbach succeeds in delivering a sometimes entertaining yet meandering and overlong movie is a testament to his enormous talent. However, for all its lovely moments (especially in the first half) you can never shake the feeling that is a story that should have been left on the page.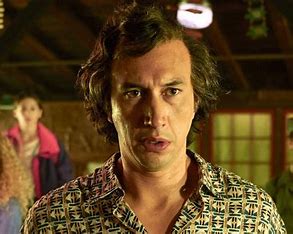 A significant problem, I think, is that the novel has dated badly. It's mid-eighties pre-internet setting with happy and content families forced to uproot and go on an epic journey because a toxic cloud of chemicals is moving their way, somehow seeming all wrong from the vantage point of today's audiences. The opening thirty minutes are fun, though. Adam Driver and Gerwig are Jack and Babette Gladney, a (seemingly) happily married couple (it's marriage number four for each) with a brood of four. The kids are great – real-life brother and sister Sam and May Nivola are fantastic as Steffie and Heinrich, and they show us, yet again, how Spielberg completely missed the boat with the three wooden sisters in "The Fabelmans". Mom may have a drug problem but this subplot leads nowhere and Gerwig, that great talent, cannot come to grips with her character.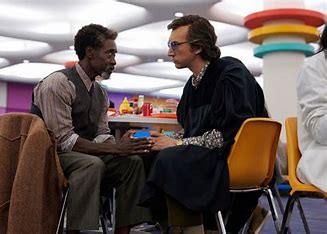 Our savior is Driver, who, against all odds, manages to give another excellent performance in bleak settings. His full title is professor Jack Gladney, professor of Hitler Studies at an unnamed mid-western university. That Jack requires his students to take a year of German before attending his class but cannot speak German himself is one of his many failings – Baumbach indulges himself in all things German to the point of shipping in German actors Lars Eidinger and Barbara Sukowa for what are little more than glorified cameos. Jack's best friend at the University is Professor Murray Siskind (well played by Don Cheadle in a role that could have been expanded) whose course on icons (really just Elvis) intertwines with Jack's. There is a genuinely great scene where Driver and Cheadle's lectures hit on the similarity of Hitler and Elvis' childhoods and, as they speak, their voices blend, all the while building to a crescendo edited to an impending truck-train collision; both vehicles are carrying the toxic chemicals that go to make up the poisonous cloud.
And Driver is equally comfortable as the family man who likes his food and loves his family and fears death, especially after he becomes the only family member to come in contact with the toxins. Many of the scenes in the film occur in a fabulously color-coordinated supermarket, and there is the suggestion (made by Cheadle's character) that death is akin to the clickety-clack of shoppers in supermarket aisles – the ambient white noise of our daily existence. This suggestion, however, like a lot of ideas in the movie, is never followed to any satisfying completion. And we soon realize this is a movie chock full of ideas that go nowhere, particularly once the family leaves their familiar surroundings and hits the road. There is even a scene of panic that suggests the movie may turn into darker Cormac McCarthy territory, but this does not pan out either.
Verdict: a good try to film the unfilmable, with yet another memorable turn by the always reliable Adam Driver.
PS: Please stay for the closing credits. They may not be to your taste, but they are unusual!
NOW SHOWING AT SELECT THEATRES AND STREAMING ON NETFLIX.