"Road Dog" is an idiomatic expression used between friends, and Doug Stanhope's stand-up comedian Jimmy Quinn is a certified road dog. Spending most of his time traveling, he performs his comedy routine in small clubs scattered along the Northern Rockies. Then, unexpectedly, his son David arrives.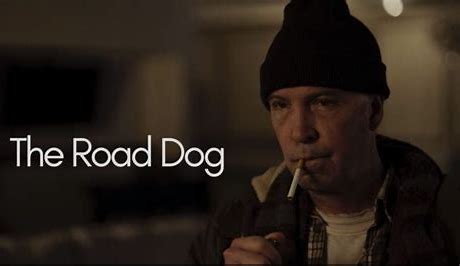 Writer-Director Greg Glienna's lovely new feature, "The Road Dog," is in the great tradition of the American (and European) road movie, only this time with a father and son-combo! The road movie genre dates to at least the thirties and forties with such classic titles as Frank Capra's "It Happened One Night" (1934), Preston Sturges' "Sullivan's Travels" (1941) and Edgar G. Ulmer "Detour" (1945). It blossomed again in the seventies and eighties with Wim Wenders '"Kings of the Road" (1976) and "Paris Texas" (1984), two superb movies starring Jack Nicholson, namely Bob Rafelson's "Five Easy Pieces' (1970) and Hal Ashby's "The Last Detail" (1973), Peter Bogdanovich's Ryan and Tatum O'Neill vehicle "Paper Moon" (1973) and, more recently, Gregg Araki's "The Living End" from 1992.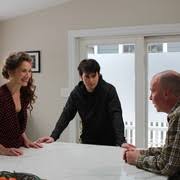 Great road movies with a father-and-son combo are more difficult to come by, with John Hillcoat's adaptation of Cormac McCarthy's dystopian post-apocalyptic "The Road" (2009) being the only one that this viewer can think of off the bat! Despite the cannibalistic horrors surrounding them, there is palpable love between the man (Viggo Mortensen) and the boy (Kodi Smit-McPhee) in this very underrated movie. "The Road Dog" shares this deep connection between father and son. The unhurried approach favored by director Gliennna (who co-wrote the screenplay with Tony Boswell) allows their relationship to blossom.
Doug Stanhope is Jimmy Quinn, an alcoholic standup comedian and certified road dog, who gets a second chance when he connects with the son he has never known (newcomer Des Mulrooney). Jimmy never achieved the success he seemed destined for in his early days. However, he still maintains a loyal following in the small bars and clubs scattered along the Northern Rockies (Oregon, Idaho, Utah, and Colorado are mentioned). Glienna never shows us much of Jimmy's routine, which always begins with something like, "My name is Jimmy Quinn, and I am an…" In other words, a riff from the Dean Martin songbook. Then, unexpectedly, his son David arrives. When this happened, I experienced an unwelcome case of Deja vu since, only last year; we savored director Clint Bentley's entertaining "Jockey," in which Clifton Collins Jr. and Moises Arias played the reunited father and son, the perfect jockey combo!
I should not have worried, however. Mulrooney has charm and holds his own in every scene with Stanhope. It also transpires that Mulrooney's character David wants to follow his dad into the stand-up comedy profession. Self-deprecating to a fault, but genuinely so, David is eventually persuaded to do his routine at one of Jimmy's venues, and he nails it (kudos to Glienna here – the spot feels both authentic and funny).
Unfortunately, David's success raises the little green monster in Jimmy. We gradually see what we had not seen before; Jimmy is a prima donna who ruined his chances at stardom by refusing to appear on television and being hopelessly inflexible. This character defect is a companion piece to his alcoholism, and by this stage of the movie, when Jimmy and David spend some time with Laura (Khrystyne Haje, who won Best Supporting Actress at the NOVA Film Festival), an old flame of Jimmy's, it is obvious that Jimmy is slowly dying of cirrhosis of the liver.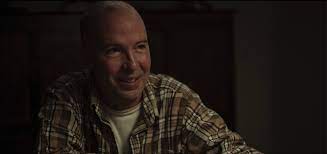 This leads to the film's seminal scene. Persuaded by David and Laura to give up the booze, Jimmy gives his first sober stand-up routine in decades. I won't spoil the outcome, but the scene, which must have been extraordinarily difficult to play, is a triumph for Stanhope. It is a miniature masterpiece of great acting.
Mr. Glienna, the creator of the original 1992 film "Meet the Parents," has a way with actors. In addition to Stanhope, Mulrooney, and Haje, there are memorable performances by Greg Fitzsimmons and Tim Kazurinsky as circuit old-timers and Linden Waddell and Sharyon Culberson as Jimmy's sister and her partner. They all bring a touch of class to their few scenes with Stanhope. Kudos also to cinematographer Erik Bjella and composer Dori Amarilio who delivers a memorable Mark Isham-influenced trumpet-based score.
"
THE ROAD DOG" WILL ENJOY A WEEK-LONG THEATRICAL ENGAGEMENT AT THE PICKWICK THEATRE, IN THE CHICAGO SUBURB OF PARK RIDGE, FROM SEPTEMBER 1st-7Th.

THIS WILL ALLOW THE FILM TO QUALIFY FOR END-OF-YEAR AWARDS AND AWARD NOMINATIONS AT AMPS, IPA, BAFTA, GOTHAM, NBR, THE MAJOR CRITICS AWARDS, AND THE MAJOR GUILD AWARDS.
THE FILM WILL THEN BECOME AVAILABLE FOR STREAming across the United States on October 6th.