It's fluff. And it's Amazon fluff. Texas turns blue in a cliffhanger accompanied by Rachel Maddow where she's not needed (and Rachel Maddow is never needed), as the first son of the United States (Taylor Zakhar Perez) falls in love with Prince Harry (Nicholas Galitzine), the spare to the British throne.
The film is so blue (in a political sense, but it's also quite sexual. Cheers!) that even die-hard "Glee" fans may find themselves blushing. The President is a divorced Southern woman played by Uma Thurman (she has one good scene), the Vice-President is African-American, and the King (or should we say Queen) of England is nicely underplayed by Stephen Fry.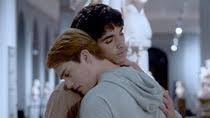 The director Matthew Lopez keeps things moving, but everyone is so sweet and accepting that we sometimes feel we are in an alternative Universe – or maybe that was the plan all along? Also, we have too many caricatures in a film that is meant to be a drama-comedy – Thomas Flynn's performance as Prince Philip, Prince Harry's elder brother, is cringeworthy.
However, the central deficit here is Perez. The actor never seems to take his role quite seriously. There is an offhandedness and vague condescension about his entire performance (some of this may be character-driven but not all) – and oh, of course, he is not gay, gay, he's bi, gay. This is a pity since his costar Nicholas Galitzine puts his heart and soul into playing Harry, who is, as he himself puts it, "as gay as a maypole". It's the perfect performance, believable in every way. He's the ONLY reason to see this movie, but he is reason enough!
NOW STREAMING ON AMAZON PRIME VIDEO