PART ONE: INTRODUCTION
Recently I have been checking up on Joni Mitchell. I knew that in 2015 she had suffered from a ruptured brain aneurysm. Alone in her Bel Air home, it took a few hours for her unconscious body to be discovered. For a time, they thought that she wouldn't make it. But Joni is a fighter, and as the months passed, she slowly regained her speech. Now, she takes part in daily rehabilitation and is learning to walk again. Her first public appearance following the aneurysm was in August 2018 at a concert featuring her friend, the late Chick Corea. Then, there were her appearances at "Joni 75: A Birthday Celebration" again in 2018 and at the Annual NAMM Technical Excellence & Creativity Awards in 2020, where she received the "Les Paul Innovation Award". And recently, there have been long and relaxed chats with Clive Davis and Cameron Crowe. It seems like a miracle!
I grew up listening to Joni Mitchell in the 1970s and 1980s. Together with Carole King and Laura Nyro, she was the muse of my youth. Joni had three watershed moments in her career.
The first was the release of the introspective and highly personal "Blue" in the summer of 1971. Together with Carole's landmark "Tapestry" (on which Joni sang backup), it forms the backbone of the singer/songwriter movement.
The second was the release of her commercial smash, the multi-platinum "Court and Spark," in January of 1974. Spawning her only top ten single "Help Me' (number 7 on Billboard) and also "Free Man in Paris" (number 22), the album peaked at number 2 for four weeks and was extremely unlucky not to have made number one, being kept from the top spot by no less than three different albums – Bob Dylan's "Planet Waves" (weeks 1 and 2), Barbra Streisand's "The Way We Were" (week 3) and John Denver's Greatest Hits (week 4). This chart factoid (an album spending four weeks at number 2 while three albums exchange with one another at the top slot) was a record at the time and stayed that way until 1987 when Whitesnake's eponymous album repeated the honor!
The third was the release of what I consider her masterpiece, "Hejira," in November of 1976. Joni has always been a Renaissance woman. Originally setting her sights on becoming a painter (and she is an exceptionally talented painter), she changed her first name from Joan to Joni so as not to be confused with the abstract expressionist Joan Mitchell (Joni was born Roberta Joan Anderson on November 7, 1943, in Fort Macleod, Alberta, Canada). Originally labeled as a folk singer, then as more mainstream pop/rock, starting around her 1972 album "For the Roses", Joni became fascinated with and started experimenting with Jazz. By "Court and Spark," she was beginning to shift from using traditional LA rock session musicians to primarily jazz musicians, most notably the saxophonist Tom Scott (Carole King's "Jazzman" and Steely Dan's "Aja") and his band "The LA Express".
Then in 1975/1976, Joni met the brilliant but troubled electric jazz bassist Jaco Pastorius, and "Hejira" was born. Pastorius was a member of the jazz fusion group Weather Report from 1976 to 1981 – he also worked with Joni on three further albums – and his bass playing employed heightened bass chords and innovative harmonics. Joni was blown away when she heard him play and decided to overdub his electric bass onto the tracks that had already been laid down on the album. The results were astounding. "Hejira" became a jazz album with a haunting, free-flowing, liquid feel that has never been matched. Unfortunately, this gifted man – the greatest electric jazz bassist of all time – died in 1987 of brain injuries obtained in a bar fight.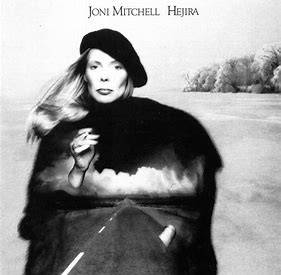 PART TWO: THE SONGS:
All songs were written by Joni except where noted.
Big Yellow Taxi/Just Like This Train/Night Ride Home/Crazy Cries of Love/Harry's House/Black Crow/Amelia/Hejira/Sex Kills/The Magdalene Laundries/ Moon at the Window/Facelift/ Why Do Fools Fall in Love*/Trouble Man**/ Comes Love***/Song for Sharon/ Woodstock/Dreamland
TRACK 2 Court and Spark (1974)
TRACKS 6,7,8,16 "Hejira" (1976)
TRACKS 1 and 17 "Ladies of the Canyon" (1970)
TRACKS 9 and 10 "Turbulent Indigo" (1994)
TRACK 11 "Wild Things Run Fast" (1982)
TRACK 5 "The Hissing of Summer Lawns" (1975)
TRACKS 4 and 12 "Taming the Tiger" (1998)
TRACK 3 "Night Ride Home" (1991)
TRACK 18 "Don Juan's Reckless Daughter" (1977)
*TRACK 13: Originally on Joni's second live album "Shadows and Light" (1980) "Why Do Fools Fall in Love" (Lymon/Santiago/Merchant)
** TRACK 14: Originally on Kyle Eastwood's 1998 EP "From There to Here". "Trouble Man"(Marvin Gaye)
*** TRACK 15 Originally on Joni's salute to the Great American Songbook "Both Sides Now" (2000) "Comes Love" (Brown/Stept/Tobias)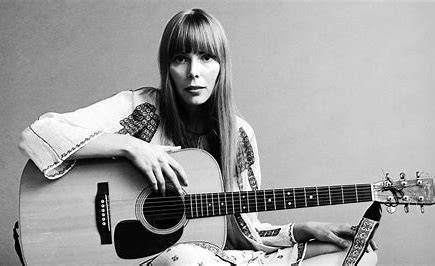 PART THREE: THE CONCERT
Joni has made three live albums.
The first, "Miles of Aisles", was released at the height of her popularity, in late 1974, following the enormous success of "Court and Spark". Like its predecessor, it was a smash, reaching the number 2 spot within a few weeks of its release (the charts moved quite a bit slower in those days). Unfortunately, it's a disappointment, and many rate it as one of Joni's lesser achievements. Recorded mostly in giant stadiums during the "Court and Spark" tour, Joni is clearly uncomfortable in this setting, and she has little rapport with her audience. A double album, it's at once too long and not long enough and, amazingly, contains only a single track from "Court and Spark", the gorgeous "People's Parties".
Her second, "Shadows and Light", recorded at the Santa Barbara Bowl in September 1979 and released in September of 1980, is also a double album, but it's so much better. Although part of the "Mingus" (a weak and indulgent Joni) tour, there is enough material from "Hejira", "The Hissing of Summer Lawns", and "Court and Spark" to keep you interested, and Jaco really shines in both his harmonies with Joni and his extended solos.
The third, "Painting with Words and Music," is from 1998 (released by Rhino in 1999) and shows a more mature and relaxed Joni in a very intimate, gorgeous set built especially for her on the Warner Brothers lot in Burbank, CA. She is in the round, surrounded by both the audience and her paintings, and Toronto-based Canadian director Joan Tosoni does a marvelous job of gently keeping the focus on Joni while occasionally cutting away to her band members as well as the occasional close-up of one of her paintings. It all works beautifully.
Opening with her best delivery of "Big Yellow Taxi", which includes a sly take on Bob Dylan, she is in fantastic form, and the love going back and forth to her small audience is palpable. You know that you are in for a hell of a good evening. It also helps that the show is built around "Hejira". Of the nineteen tracks, four are from this album: the title track, "Black Crow", "Amelia," and "Song for Sharon". It is the only one of her albums that she refers to by name as she banters about that beautiful title – the "Hejira" is Mohammad's flight from Mecca to Medina – and her attraction to the long dangling "J", a year before Steely Dan did something similar on "Aja". This is Joni at her peak with some of the most haunting lyrics ever written:
Amelia I was driving across the burning desert when I spotted six jet planes leaving six white vapor trails across the bleak terrain it was the hexagram of the heavens it was the strings of my guitar  Amelia, it was just a false alarm
Song for Sharon I went to Staten Island (Sharon) to buy myself a mandolin, and I saw the long white dress of love on a storefront manikin
Black Crow Driving down to pick up on any shiny thing just like that black crow flying in a blue sky
Hejira I know no one's going to show me everything we all come and go unknown each so deep and superficial between the forceps and the stone
Her band is tight with Mark Isham on trumpet (magnificent on the "Hejira" title track), Brian Blade on drums, ex-husband Larry Klein on base (taking over from Jaco), and Greg Leisz on guitar
Joni also interprets other writers' material here. She does a lovely slow jazzy version of "Comes Love" and is clearly having fun harmonizing with friends on 'Why Do Fools Fall in Love?". However, the standout is her knockout delivery of Marvin Gaye's "Trouble Man" from the 1972 film soundtrack. I guess you could call it Jazz-Soul Joni style. It sends you. It transports you. Just like the rest of this wonderful document. Please enjoy.
"Joni Mitchell – Painting with Words and Music" is available for streaming on Amazon Prime Video and Apple TV.