DIRECTOR: Larry Peerce
BOTTOM LINE:
Ali McGraw's movie debut was a huge BO success and paved the way for her sensational turn in "Love Story" the following year. Directed by Larry Peerce and based on the 1959 novella of the same name by Phillip Roth, with an adapted screenplay by Arnold Schulman, the movie centers on Neil Klugman (Richard Benjamin), a nice middle-class Jewish boy from the Bronx who falls under the spell of Brenda Patimkin, a wealthy Radcliffe student whose parents are nouveau riche Jews who have grown wealthy in the plumbing business – there are similarities between this movie and Neil Simon/Elaine May's "The Heartbreak Kid" from 1972, except in that movie the golden girl, played by Cybill Shepard, is a Shiksa whereas Ali McCraw's character is a Jewish American Princess.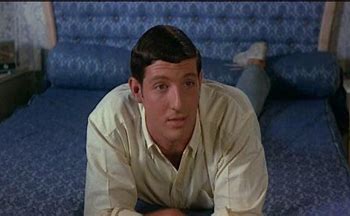 The Queer element in the film comes from Brenda's older brother Ron (played by the late Michael Meyers – a name that had yet to become synonymous with a horror franchise). Ron is a star athlete – the film's title alludes to a song that Ron plays when he gets nostalgic for his glory days at Ohio State in Columbus – and he has his mind set on being a college coach. However, he clearly has the hots for Neil who he keeps inviting back to his room and slapping on the butt. And then there is the scene outside the bathroom where Ron, having just washed his jockstrap in the sink, regards Neil with such a goofy grin that he is obviously enraptured with him. To seal the deal, he is an avid collector of what he calls "semi-classical" music and, he prides himself in his extensive collection of Andre Kostelanetz and Montovani!
Unfortunately, Schulman and Peerce don't have much interest in Ron's character. He marries a nice rich Jewish girl whom Brenda supposes he has never slept with. And that's that! The straight audiences who saw this in 1969 probably had no clue that Ron was a closeted homosexual. They were left feeling sorry for him because he is forced to work for his father-in-law's business and, as a result, has to give up on his athletic dreams. It is unlikely that they would be grieving for his life in the closet and his loveless marriage.
CATEGORY: My Favorites
SUBCATEGORY: Queer Film/TV
STREAMING: AMAZON PRIME AND APPLE TV+