Jess Wexler and Joshua Leonard Star in the Sweet and Whimsical "Fully Realized Humans".
The leading actors in "Fully Realized Humans" Jess Wexler and Joshua Leonard have such a natural chemistry that I assumed they were a couple in real life. Not so, but this makes two movies (see also 2011's "The Lie") in which they seem totally at ease and made for each other.
"A Lie"
While "A Lie" was about the arrival of a new baby, "Fully Realized Humans" follows this timeline backward a few months. Oh, did I mention that not only is Leonard the film's leading man, but he's also the film's director, co-writer (with Weixler), coeditor, and coproducer (he was also the writer/director of "The Lie")?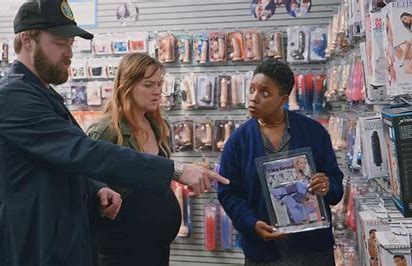 The bit with the dildo!
In her third trimester Jackie (Weixler, who was eight months pregnant during filming) is understandably nervous and so is Elliot (Leonard). With their friends telling them that their lives are over, they decide to experiment a little before the baby's arrival. This entails some very funny scenes involving the purchasing and use of a dildo (Jackie on Elliot), Jackie's new sense of power, and Elliot's reexamination of his relationship with his father.
"Humpday"
It's all lovely and zips by in a short running time of seventy-six minutes. If you have a feeling that you have seen Leonard before it may have been with Mark Duplass in the late great Lynn Shelton's "Humpday", which is due for a revisit!
"FULLY REALIZED HUMANS" IS AVAILABLE FOR STREAMING ON AMAZON PRIME VIDEO AND APPLE TV