Berlin, Paula Beer, and Franz Rogowski are all wonderful in Christian Petzold's Hypnotic "Undine".
The German director (Christian Petzold) reunites his gorgeous stars from the baffling "Transit", Paula Beer, and Franz Rogowski. This time around for a story that flirts with the myth of the water nymph, "Undine". Although the plot is similarly convoluted, the atmosphere is so seductive and the two leads are so effective, that the movie's mysteries become part of its charm.
The eponymous heroine (Beer) who lectures to tourists on the history of Berlin, is one morning, strangely drawn to the figure of a diver in a hotel lobby aquarium. At the same time Christopher (Rogowski) who has followed her to compliment her on her talk, accidentally knocks over the aquarium. The scene ends with the two of them on the floor gazing into one another's eyes, drenched, and surrounded by dying fish.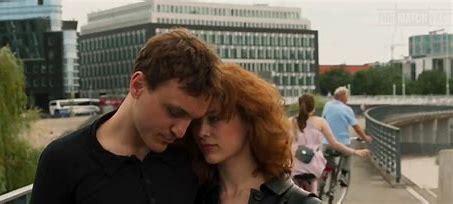 Turns out that Christopher is an underwater diver which leads to some stunning underwater sequences and a giant catfish named Gunther. Is Undine the nymph of the title or is this just a coincidence? You may or may not be satisfied with Petzold's ending but the overall result is hypnotic.
"UNDINE" IS AVAILABLE FOR STREAMING ON AMAZON PRIME VIDEO, APPLE TV+, AND HULU.