This is the second of a series of posts on Queer Cinema.
With the death of the Hays code in 1967 and the formation of the MPAA rating system in 1968, Queer Cinema was ready to come out of the closet. The period of 1967-1976 can be seen as Queer Cinema's Stonewall with:
The first documentary concerning an American gay man.
The first movie in which all the characters are gay, echoing "The Women" thirty years earlier.
The only Best Picture to get an X-rating is directed by a gay man and it's about a gay hustler!
And while we first saw the inside of a gay bar in 1962, in 1968 we saw the inside of a lesbian bar. Cheers!
The Simultaneous birth of the New German and New Queer Cinemas.
Plus, the seminal movie about the rise of fascism in Nazi Germany has a gay character in the leading role and some of the best musical numbers ever to hit the screen.
1. Portrait of Jason (1967)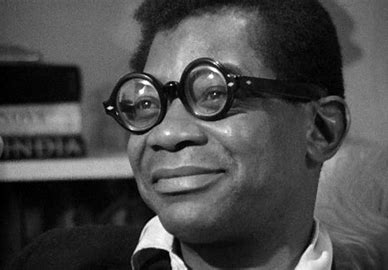 Shirley Clarke
HIMSELF
*Jason Holliday (né Aaron Payne playing Himself)
A true breakthrough and a film that has improved with age, documentary filmmaker Shirley Clarke interviews gay African American hustler and aspiring cabaret performer Jason Holliday in his apartment at the Hotel Chelsea. Jason is a STAR in his own living room. He is magnetic and he is the sole screen presence in the film. As he narrates his troubled life story to the camera – there are several songs and numerous costume changes – Clarke, and her partner behind the camera Carl Lee, use cinéma vérité techniques to reach the sadness underlying Jason's theatrical exaggerated persona. Like so many, before and since Jason was ahead of his time. Today, he could give Ru Paul a run for his money. "Portrait of Jason" is a landmark of the avant-garde cinema of the sixties.
NOW STREAMING ON THE CRITERION COLLECTION
2. No Way to Treat a Lady (1968)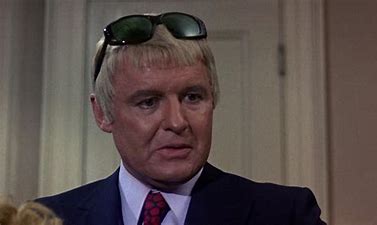 Jack Smight
SYLVIA: You Homo. DORIAN: That does not mean that you are a bad person.
DORIAN: Isn't that absolutely fantastic and breathtaking?
DORIAN: well honestly, the suspicion of some people.
GAY CHARACTER
*Christopher Gill aka "Dorian" (Rod Steiger)
Christopher Gill (Rod Steiger) is a serial killer fixated on his late mother, a noted stage actress. Gill preys on older women who remind him of Mama. A Broadway theatre owner and director, he adopts various disguises such as a priest, policeman, plumber, hairdresser, etc., to put his victims at ease (and avoid being identified) before strangling them!
"Dorian", Gill's hairdresser persona is, of course, gay with a classic sibilant-rich delivery. In the movie's best scene, just as he is caressing the neck of his intended victim Miss Belle Poppie (a marvelous Barbara Baxley who has a household full of cats) during a wig fitting – "isn't that absolutely fantastic and breathtaking" – he is interrupted by the arrival of her sister Sylvia (Doris Roberts, always so good at putting someone in their place) who knows that something is not quite right. Dorian reacts with "Well honestly, the suspicion of some people" – and after Sylvia's "you homo" delivers the movie's classic line "Well, that doesn't mean you're a bad person". As a gay man, I should be disturbed by Steiger's queer turn. However, this scene always ends with me rolling on the floor with laughter.
"No Way to Treat a Lady" was adapted by John Gay from William Goldman's novel of the same name and directed by Jack Smight. Also starring George Segal, Eileen Heckart, and an underused but still captivating Lee Remick.
NOW STREAMING ON AMAZON PRIME AND ON APPLE TV+
3. The Fox (1968)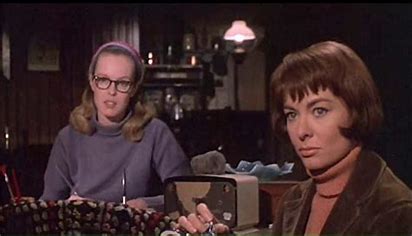 Mark Rydell
GAY CHARACTERS
*Jill Banford (Sandy Dennis)
*Ellen March (Anne Heywood)
Director Mark Rydell ("The Rose", "On Golden Pond") moves the location of the D.H. Lawrence short story to rural Canada where our lesbian couple Jill Banford (Sandy Dennis) and Ellen March (Anne Heywood) support themselves by raising chickens. They are happy and content. There is genuine chemistry between the two actresses without things being overtly physical. Then unexpectedly, in the dead of winter, merchant seaman Paul (Keir Dullea) arrives on the property in search of his grandfather.
Yes, there is an actual fox who keeps killing the chickens and a dying oak tree which we begin to realize is the Canadian equivalent of Chekov's gun. Like John Huston's "Reflections in a Golden Eye", released the previous year, "The Fox" does interesting things with color saturation (Bill Fraker was the cinematographer) and the Lalo Schifrin score has entered the jazz canon.
All three leads are impressive and, although the ending is a disappointment from a gay perspective, the movie is well worth seeing.
"THE FOX" IS NOT AVAILABLE FOR STREAMING. THE DVD CAN BE PURCHASED FROM AMAZON.
4. The Detective (1968)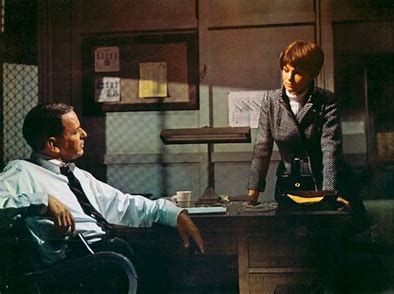 Gordon Douglas
GAY CHARACTER
*Colin MacIver (William Windom)
Frank Sinatra does the best he can under the circumstances playing a policeman investigating the deaths of several gay men in New York City. However, the awful script by Abby Mann – doing for homosexuals what he did for Jews in "Judgement at Nuremberg" – and the mediocre direction by Gordon Douglas put the kibosh on everything. William Windom plays the type of gay character that makes every adolescent gay boy want to jump off a bridge. Awful, but worth seeing as a pre-Stonewall period piece. The underperformance of "The Detective" relative to "Rosemary's Baby" played a major part in the Farrow-Sinatra breakup.
NOW STREAMING ON AMAZON PRIME AND ON APPLE TV+
5. The Killing of Sister George (1968)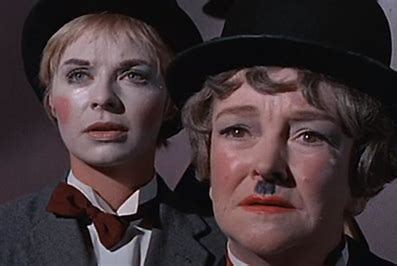 Robert Aldrich
GAY CHARACTERS
*June "George" Buckridge (Beryl Reid)
*Alice "Childie" McNaught (Susannah York)
*Mercy Croft (Coral Browne)
GAY ACTORS/WRITERS/DIRECTOR
ACTRESS: Carol Browne
THE FIRST LOOK INSIDE A LESBIAN BAR
Beryl Reid is marvelous as "George". That's not her name. It's the name of the character she plays in a beloved long-running BBC series. She is in a lesbian relationship with the much younger Childie (Susannah York), and she thinks that she is about to get canned from the show.
Enter Carol Browne as a BBC executive who also has the hots for Childie and George just cannot get a break.
Robert Aldrich does an excellent job here, just like he did with Bette and Joan in "Baby Jane". There is a gratuitous and embarrassing seduction scene that should have been left on the cutting-room floor but, the relationship between George and Childie seems exactly right, and Browne is also very believable as the predatory suit who holds all the cards.
"The Killing of Sister George" follows in the footsteps of "Advice and Consent" six years before, only this time, it's a lesbian bar.
NOW STREAMING ON KINO LORBER
6. Rachel, Rachel (1968)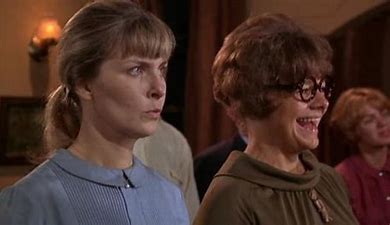 Paul Newman
GAY CHARACTER
*Calla Mackie (Estelle Parsons)
Paul Newman produced and directed (his debut) "Rachel, Rachel", a slight tale about a schoolteacher's (Newman's wife Joanne Woodward) sexual awakening in her mid-thirties in a small Connecticut town. Highly regarded at the time of its release (NYFCC awards going to Newman as Best Director and Woodward as Best Actress), it seems a bit underwhelming today. However, it does offer one of the first sympathetic portraits of a lesbian character in an American Film; Rachel's fellow schoolteacher Calla. Calla, who has a crush on Rachel, is nicely played by Estelle Parsons coming off her Oscar in "Bonnie and Clyde". The screenplay is by Stewart Stern.
NOW STREAMING ON AMAZON PRIME AND ON APPLE TV+
7. 2001: A Space Odyssey (1968)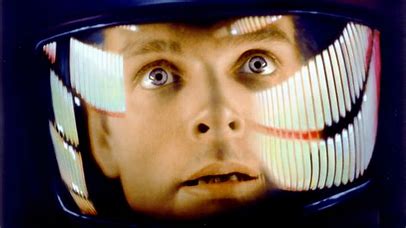 Stanley Kubrick
GAY CHARACTER
*HAL 9000 Computer voiced by actor Douglas Rain.
Rain nails HAL's queer factor with some deliciously placed sibilants.
I am putting myself to the fullest possible use, which is all I think that any conscious entity can ever hope to do

HAL
In Stanley Kubrick's "2001: A Space Odyssey", HAL 9000 is the psychotic gay computer aboard Discovery One. The starship is bound for Jupiter with mission pilots and scientists Dr. David "Dave" Bowman (Keir Dullea) and Dr. Frank Poole (Gary Lockwood). HAL is in love with Dave and quickly dispatches Frank and the other three astronauts who are making the journey in suspended animation.
And HAL's Shutdown:
NOW STREAMING ON AMAZON PRIME AND ON APPLE TV+
8. The Sergeant (1968)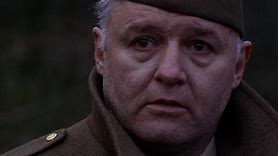 John Flynn
GAY CHARACTER
*MSgt Callan.
Master sergeant Callan was Rod Steiger's second gay role of 1968 but, unlike "Dorian", his flamboyant hairstylist persona in "No Way to Treat a Lady", hardly anybody saw it.
The subject matter, its release during the Christmas season of 1968, and a couple of scathing (and homophobic) reviews by some of the major critics of the time (Kael, Crist, and Canby, were among them) that resembled a shark-feeding frenzy, quickly sealed its fate. Directed by John Flynn, making his directorial debut, and produced by his former boss director/producer Robert Wise, the film is by no means terrible. In fact, it is eerily similar, in so many ways, to John Huston's "Reflections in a Golden Eye", which was released the previous year with Marlon Brando.
Both movies feature a martinet who revels in the life of men among men. Callan rules over his military camp (in this case it's rural France in 1952 – there is a black-and-white precredit sequence set during the closing days of WWII) with an iron fist, all the while lusting after a beautiful young man. In "Reflections" that obscure object of desire was Robert Forster, mostly bare-assed and riding Elizabeth Taylor's favorite horse. Here it is John Phillip Law, looking beautiful between his star-making role in "The Russians are Coming, the Russians are Coming" and the blind angel in Roger Vadim's "Barbarella".
But while "Reflections" had the genius of McCullers and Huston (not to mention Brando, Taylor, Julie Harris, and Brian Keith), "The Sergeant" can only rise a little above its pedestrian screenplay, on occasion, and the sanctimonious parallel heterosexual romance, between Law and a young French woman (Ludmila Mikael), does not help matters. The best moments are thanks to the above-average performances of both leading men with Steiger – arguably the most flamboyant of all the great American actors – having a few memorable scenes, all of which border on camp.
There is a kiss, but it's more of the Judas than the Cupid variety.
NOW STREAMING ON APPLE TV+
9. The Damned (1969)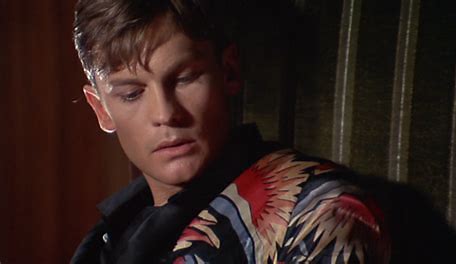 Luchino Visconti
GAY CHARACTER
*Martin von Essenbeck (Helmut Berger)
GAY ACTORS/WRITERS/DIRECTOR
DIRECTOR: Luchino Visconti
ACTOR: Dirk Bogarde
ACTOR: Helmut Berger
Many of the old German families sided with Hitler in the closing days of the Weimar Republic. Luchino Visconti's "The Damned" centers on the Essenbecks (loosely based on the Krupp family) on the night of the Reichstag fire in early 1933. After a great opening, the film misfires. Part of the reason is that Visconti edits the film around his then-lover Helmut Berger who does his famous Marlene Dietrich impersonation. However, the real destruction came from Hollywood lopped off an additional thirty minutes on the film's American release. As a result, Dirk Bogarde, Charlotte Rampling, and Helmut Griem, despite giving their all, fade in and out of the picture.
NOW STREAMING ON AMAZON PRIME VIDEO
10. Staircase (1969)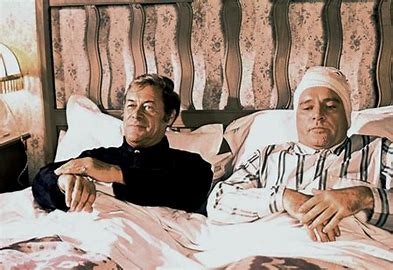 Stanley Donen
GAY CHARACTERS
*Charles Dyer (Rex Harrison)
*Harry C. Leeds (Richard Burton)
The saddest thing about Stanley Donen's utterly soulless adaptation of Charles Dyer's play is that:
the two leading men were each paid over a million dollars.
the two leading men were each paid over a million dollars to impersonate an aging gay couple.
the two leading men were each paid over a million dollars to impersonate an aging gay couple without ever inhabiting their roles.
On the stage, Dyer may have been trying to project two sides of his own personality since Harrison's and Burton's characters are anagrams of each other. However, any such subtlety is lost in translation. With poor Kathleen Nesbitt as Burton's bedridden mother.
NOW STREAMING ON YOUTUBE
11. Midnight Cowboy (1969)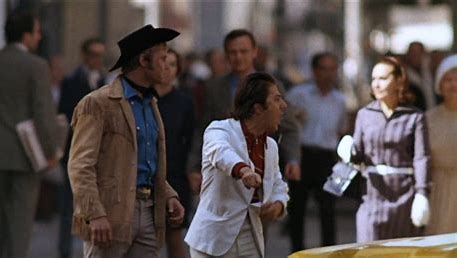 John Schlesinger
I'M WALKIN' HERE
GAY CHARACTERS
*Joe Buck (Jon Voight)
*Ratso Rizzo (Dustin Hoffman)
*Towny (Bernard Hughes)
*Young Student (Bob Balaban)
GAY ACTORS/WRITERS/DIRECTOR
DIRECTOR: John Schlesinger
John Schlesinger's American debut is the only X-rated movie to win Best Picture. Dated now, it still boasts two great performances courtesy of Jon Voight and Dustin Hoffmann. The gay thing is a bit primitive with tortured souls getting killed by their tricks and numerous queer types from The Village in small parts so the audience will not clue into the more basic details of the Joe Buck/Ratso Rizzo relationship. And like "Darling", "Midnight Cowboy" is almost ruined by that long Warhol-inspired psychedelic party scene.
NOW STREAMING ON AMAZON PRIME AND ON APPLE TV+
12. Goodbye Columbus (1969)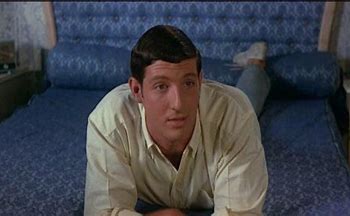 Larry Peerce
GAY CHARACTER
*Ron Patimkin (Michael Meyers)
Ali McGraw's movie debut was a huge BO success and paved the way for her sensational turn in "Love Story" the following year. Directed by Larry Peerce and based on the 1959 novella of the same name by Phillip Roth, with an adapted screenplay by Arnold Schulman, the movie centers on Neil Klugman (Richard Benjamin), a nice middle-class Jewish boy from the Bronx who falls under the spell of Brenda Patimkin, a wealthy Radcliffe student whose parents are nouveau riche Jews who have grown wealthy in the plumbing business – there are similarities between this movie and Neil Simon/Elaine May's "The Heartbreak Kid" from 1972, except in that movie the golden girl, played by Cybill Shepard, is a Shiksa whereas Ali McCraw's character is a Jewish American Princess.
The Queer element in the film comes from Brenda's older brother Ron (played by the late Michael Meyers – a name that had yet to become synonymous with a horror franchise). Ron is a star athlete – the film's title alludes to a song that Ron plays when he gets nostalgic for his glory days at Ohio State in Columbus – and he has his mind set on being a college coach. However, he clearly has the hots for Neil who he keeps inviting back to his room and slapping on the butt. And then there is the scene outside the bathroom where Ron, having just washed his jockstrap in the sink, regards Neil with such a goofy grin that he is obviously enraptured with him. To seal the deal, he is an avid collector of what he calls "semi-classical" music and, he prides himself in his extensive collection of Andre Kostelanetz and Montovani!
Unfortunately, Schulman and Peerce don't have much interest in Ron's character. He marries a nice rich Jewish girl whom Brenda supposes he has never slept with. And that's that! The straight audiences who saw this in 1969 probably had no clue that Ron was a closeted homosexual. They were left feeling sorry for him because he is forced to work for his father-in-law's business and, as a result, has to give up on his athletic dreams. It is unlikely that they would be grieving for his life in the closet and his loveless marriage.
NOW STREAMING ON AMAZON PRIME AND APPLE TV+
13. Performance (1970)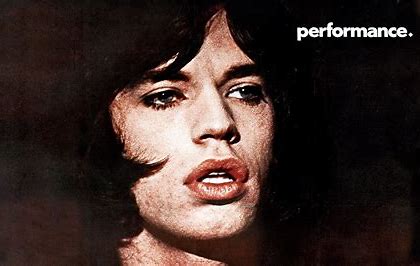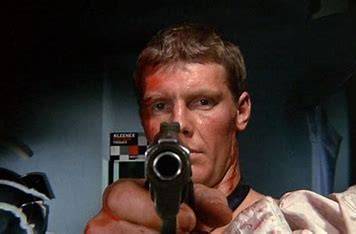 Donald Cammell and Nicolas Roeg
GAY CHARACTERS
*Chas (James Fox)
*Mick Jagger (Turner)
*Pherber (Anita Pallenberg)
This psychedelic ménage à trois involving a gangster (James Fox), a reclusive rock star (Mick Jagger), and the lady he lives with (Anita Pallenberg), was made in 1968 but held back from release by Warner Bros. because of its sexual content and graphic violence. And, although the reviews were awful on release, the film has grown in stature over the years, and rightly so.
With obvious references to the Harold Pinter/ Joseph Losey masterpiece "The Servant", the casting of the boyish Fox (who also starred in "The Servant") opposite the androgynous Jagger (slipping into Dirk Bogarde's shoes) works, the latter playing the role of a jaded rock star to perfection.
There will always be an argument as to who was the real auteur behind the camera. Nicolas Roeg, one of the few great cinematographers ("The Masque of the Red Death", "Petulia") to transition to the great director ("Walkabout", "Don't Look Now") is the obvious choice. Unfortunately, Donald Cammell's post-"Performance" career was a series of failed projects (many involving Marlon Brando) with only the less than stellar "Demon Seed" (1997), White of the Eye" (1987), and "Wild Side" (1995 with the director's cut in 1999) seeing completion before his death in 1996. As an iconoclast and a Hollywood outsider, however, he has his champions.
NOW STREAMING ON AMAZON PRIME AND ON APPLE TV+
14. Women in Love (1970)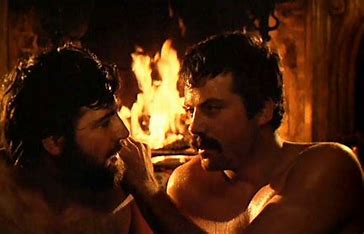 Ken Russell
GAY CHARACTER
*Rupert Birkin (Alan Bates)
GAY ACTORS/WRITERS/DIRECTOR
ACTOR: Alan Bates
SCREENWRITER (ADAPTED): Larry Kramer
Future gay activist Larry Kramer's (founder of both GMHC and ACT UP) adaptation of D.H Lawrence's 1920 novel was an enormous critical and commercial success earning four Oscar Nominations:
Best Actress: Glenda Jackson (won).
Best Director: Ken Russell (nominated).
Best Adapted Screenplay: Larry Kramer (nominated)
Best Cinematography: Billy Williams (nominated).
The film takes place in 1920, in the midlands mining town of Beldover. Two sisters, Ursula (Jennie Lindon) and Gudrun (Jackson), discuss marriage on their way to the wedding of Laura Crich, daughter of the town's wealthy mine owner. At the village church, a particular member of the wedding party fascinates each sister – Gudrun by Laura's brother, Gerald (Oliver Reed), and Ursula by Gerald's best friend, Rupert Birkin (Alan Bates). Ursula is a school teacher and Rupert is a school inspector; she remembers his visit to her classroom, interrupting her botany lesson to discourse on the sexual nature of the catkin. The four are later brought together by a mutual friend and as Jennie and Rupert start dating so do Gudrun and Gerald.
What makes this a queer film, is the famous nude wrestling scene by firelight between Redd (Gerald) and Bates (Rupert). Rupert enjoys their closeness and says they should swear to love each other, but Gerald cannot understand Rupert's idea of wanting to have an emotional union with a man as well as an emotional and physical union with a woman.
"Women in Love" is not available for streaming. However, the DVD can be purchased on Amazon.
15. There Was a Crooked Man (1970)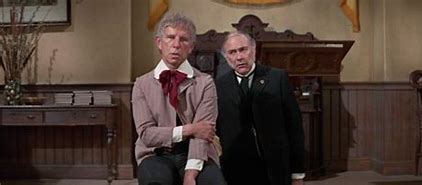 Joseph L. Mankiewicz
Well-Adjusted Gay Couple, Arizona Territory 1883.
GAY CHARACTERS
*Dudley Whiner (Hume Cronyn)
*Cyrus McNutt (John Randolph)
The "marriage" of Hume Cronyn and John Randolph in JLM's "There Was a Crooked Man" is Hollywood's first presentation of a happy and well-adjusted gay couple. Yes, they fight and bicker all the time. However, they are clearly madly in love with each other. No, Cronyn and Randolph are not in We-Ho or the Hamptons. They are in an extremely poor excuse for jail. As Scarlet O'Hara would put it, a horse jail! We are in the Arizona territory circa 1883. The main plot involves a $500,000 loot hidden by Kirk Douglas who somehow also ends up in said jail and who is being hunted by Henry Fonda's Sheriff Woodward W. Lopeman.
This was Mank's only Western, and it is a marvelous ride with a witty, intelligent script by David Newman and Robert Benton. The boys were fresh from their triumph with "Bonnie and Clyde".
However, in many ways, it's like Mank has been transported back in time to an alternate "All About Eve" with Cronyn and Randolph having taken over from Bette Davis and Thelma Ritter, respectively. Two of the greatest character actors in Hollywood history, Cronyn and Randolph play their roles with great knowingness and respect. In addition, all the while being brilliantly funny. Cheers!
NOW STREAMING ON Amazon Prime Video, Apple TV, and The Criterion Channel
16. The Boys in the Band (1970)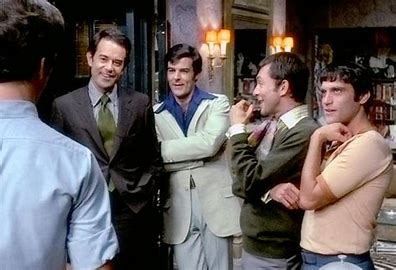 William Friedkin
GAY CHARACTERS
*Michael (Kenneth Nelson)
*Harold (Leonard Frey)
*Emory (Cliff Gorman)
*Donald (Frederick Colms)
*Hank (Laurence Luckinbill)
*Larry (Keith Prentice)
*Cowboy Tex (Robert La Tourneaux)
*Bernard (Reuben Greene)
*Alan McCarthy (Peter White)
GAY ACTORS/WRITERS/DIRECTOR
WRITER: Mart Crowley
ACTOR: Kenneth Nelson (R.I.P. 1993 AIDS-related illness)
ACTOR: Leonard Frey (R.I.P. 1988 AIDS-related illness)
ACTOR: FREDERICK COLMS (R.I.P. 1992 AIDS-related illness)
ACTOR: Robert La Tourneaux (R.I.P. 1986 AIDS-related illness)
ACTOR: Keith Prentice (R.I.P. 1992 AIDS-related illness)
As we saw in the 2020 remake, Mart Crowley's play "The Boys in the Band" has stood the test of time beautifully. The original adaption, directed by William Friedkin, before he made "The French Connection" and "The Exorcist", is essential viewing for every gay man. The standouts are Kenneth Nelson, Leonard Frey, and Cliff Gorman (stunning as Emory and he was straight!).
The tragic epilogue is that the five real-life gay actors were all unemployable in major roles after the film's release and all died of AIDS-related illnesses within seven years of one another in the late eighties and early nineties.
NOW STREAMING ON AMAZON PRIME AND ON APPLE TV+
17. Diary of a Mad Housewife (1970)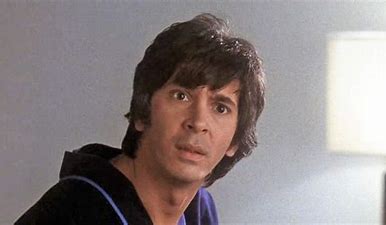 Frank Perry
GAY CHARACTER
*George Prager (Frank Langella)
The last movie that director Frank Perry and his screenwriter wife Eleanor made together was their best. A wonderful adaptation of the bestselling novel "Diary of a Mad Housewife" by Sue Kaufman, it stars Carrie Snodgress as Tina, an upper-middle-class housewife who gets no respect from either her whining and demanding husband (Richard Benjamin) or her arrogant and demanding lover (Frank Langella making his film debut). The movie's only sour note, a product of its times, is that Langella's character turns out to be gay thus, explaining all the nasty things he did to Tina over the course of their relationship.
NOW STREAMING ON YOUTUBE
18. The Private Life of Sherlock Holmes (1970)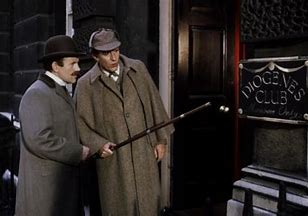 Billy Wilder
GAY CHARACTER
*Sherlock Holmes (Robert Stephens)
Billy Wilder's affectionate, slightly parodic look at the Holmes-Watson relationship.
It's August 1887 and Holmes is approached by a famous Russian ballerina, Madame Petrova, who wants to have a child and proposes that Sherlock Holmes be the father, hoping that their offspring will inherit her beauty and his intellect. Holmes manages to extricate himself by claiming that Watson (Colin Blakely) is his lover, much to the doctor's embarrassment. Back at 221B, Watson confronts Holmes about the reality of the ensuing rumors, and Holmes only states that Watson is "being presumptuous" by asking Holmes whether he has had relationships with women.
Director Billy Wilder has said he originally intended to portray Holmes explicitly as a repressed homosexual, stating:
I should have been more daring. I have this theory. I wanted to have Holmes homosexual and not admitting it to anyone, including maybe even himself. The burden of keeping it secret was the reason he took dope.

Billy Wilder: Gemünden, Gerd (2008). A Foreign Affair: Billy Wilder's American Films. Brooklyn: Berghahn Books. p. 147. ISBN 978-1-78533-475-7.
This is, without a doubt, the underrated gem in the Wilder canon. Excellent work by Robert Stephens (his best screen performance) and Colin Blakely, and Geneviève Page gives a gorgeous melancholy performance as a German spy who is secretly in love with Holmes. The Russian Ballet/Tchaikovsky sequence is a classic and represents Wilder at his very best.
NOW STREAMING ON AMAZON PRIME VIDEO AND APPLE TV+
19. Death in Venice (1971)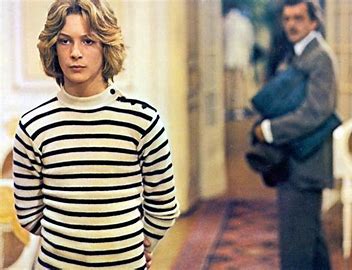 Luchino Visconti
GAY CHARACTER
*Gustav von Aschenbach (Dirk Bogarde)
GAY ACTORS/WRITERS/DIRECTOR
DIRECTOR: Luchino Visconti
ACTOR: Dirk Bogarde
After "The Damned", Visconti and Bogarde collaborated on adapting the Thomas Mann novel "Death in Venice". It's gorgeous if a bit slow-moving. Visconti's best idea was changing von Aschenbach's profession from a writer to a composer opening the movie to the magnificent Gustav Mahler Adagietto (Symphony No.5). The object of beauty, who was presented after a huge Visconti-lead talent search, is Bjorn Andresen.
NOW STREAMING ON AMAZON PRIME AND ON APPLE TV+
20. The Garden of the Finzi Continis (1971)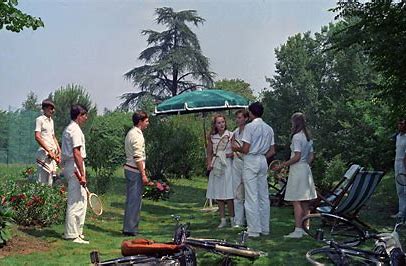 Vittorio De Sica
GAY CHARACTER
*Alberto Finzi Contini (Helmut Berger)
GAY ACTORS/WRITERS/DIRECTOR
SOURCE MATERIAL (NOVEL): Giorgio Bassani
ACTOR: Helmut Berger
"The Garden of the Finzi Continis" is based on the semi-autobiographical novel by gay Italian writer Giorgio Bassani. His character in the book and the film, Alberto, is played by gay actor Helmut Berger fresh from Visconti's "The Damned" and it's a quite different performance. Alberto is clearly in love with his friend Malnate a young man with imposing physicality and communist leanings played by Fabio Testi. Alberto delights to be in Malnate's presence and reacts jealously when he senses that his sister Micol (Dominique Sanda) and Malnate may be getting closer. Will Alberto's love be reciprocated? Of course, the Finzi Contini's are living on borrowed time. Beyond their wall-off compound, the Jews of Mussolini's Italy are being rounded up with an express ticket to the concentration camps.
NOW STREAMING ON AMAZON PRIME AND ON APPLE TV+ (SCREENPIX)
21. Sunday Bloody Sunday (1971)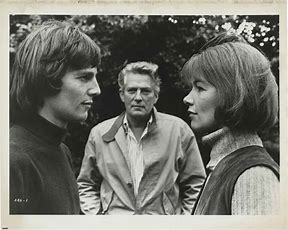 John Schlesinger
GAY CHARACTERS
*Daniel Hirsh (Peter Finch)
*Bob Elkin (Murray Head)
GAY ACTORS/WRITERS/DIRECTOR
DIRECTOR: John Schlesinger
FEATURES THE FIRST AFFECTIONATE KISS ONSCREEN BETWEEN TWO MEN IN A TALKING PICTURE
In "Sunday Bloody Sunday", Murray Head plays a free-spirited bisexual who is having simultaneous relationships with a divorced recruitment consultant (Glenda Jackson) and a gay Jewish doctor (Peter Finch). Although you always feel that Glenda's character will "win out", Peter Finch gives a wonderful thoroughly convincing performance. He is also one of the first gay characters to be comfortable in his own skin. Compared to Joe Buck and Ratso Rizzo in Schlesinger's previous film "Midnight Cowboy", he is positively walking on sunshine. He also gets a superlative monologue at the end of the film – "I am happy, apart from missing him" – which is spoken directly to the camera. It's an acting tour de force that has never been bettered. Look out for Daniel Day-Lewis in a small role.
NOW STREAMING ON AMAZON PRIME AND ON APPLE TV+ (SCREENPIX)
22. Cabaret (1972)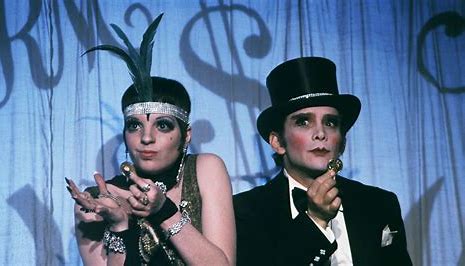 Bob Fosse
GAY CHARACTERS
*Brian (Michael York)
*Baron Maximillian (Helmut Griem)
GAY ACTORS/WRITERS/DIRECTOR
WRITER: Christopher Isherwood (book)
WRITER: John Van Druton (play)
It's Berlin in 1931. The closing days of the Weimer Republic. The Nazi party will be in power in less than two years. We are with Brian (Michael York) and the delectable Miss Sally Bowles (Liza Minnelli) and Baron Maximilian (Helmut Griem).
"Fuck Maximillian!" "I do!" "So do I"
Some of the sweetest words ever spoken on film.
The film is based on the 1966 Broadway musical "Cabaret" by Kander and Ebb which was adapted from Christopher Isherwood's semi-autobiographical novel "The Berlin Stories" (1945) and the John Van Druten play "I Am a Camera" which was itself adapted from the same work. With Bob Fosse's revolutionary choreography and direction and Liza's stunning performance, this is one of the Best Films of all time. Not forgetting Joel Grey's irrepressible host at the Kit Kat Club and those amazing Kander and Ebb songs.
NOW STREAMING ON AMAZON PRIME AND ON APPLE TV+
23. The Bitter Tears of Petra Von Kant (1972)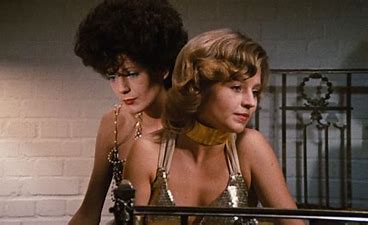 Rainer Werner Fassbinder
GAY CHARACTERS
*Petra von Kant (Margit Carstensen)
*Marlene (Irm Hermann)
*Karin Thimm (Hanna Schygulla)
GAY ACTORS/WRITERS/DIRECTOR
WRITER: Rainer Werner Fassbinder
DIRECTOR: Rainer Werner Fassbinder
A landmark in both New Queer Cinema and the New German Cinema, Fassbinder's examination of the dynamics of a lesbian love triangle was shot, in true Fassbinder fashion, over a few hours in der Wunderkind's apartment. However, "Petra Von Kant" is as powerful today as it was in 1972. Based on Fassbinder's own play, it takes place entirely in the home of its eponymous heroine, an outrageously spoilt fashion designer. When a new sexually fluid young thing arrives from Australia (Hanna Schygulla), Petra (Margit Carstensen) begins to turn her attention away from her loyal friend and caretaker Marlene (Irm Hermann) leading the viewer down avenues of emotional codependency you never knew existed. If the plot sounds familiar, it was remade in 1998 by Lisa Cholodenko as "High Art" with Ally Sheedy, Patricia Clarkson, and Radha Mitchell.
NOW STREAMING ON AMAZON PRIME AND ON APPLE TV+
24. Pete 'n' Tillie (1972)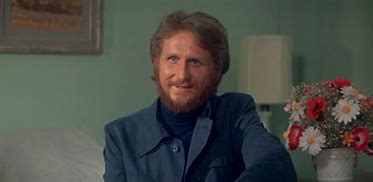 Martin Ritt
GAY CHARACTER
*Jimmy Twitchell (René Auberjonois)
Tillie (Carol Burnett) is single in her late thirties. At a party, she is introduced to Pete (Walter Matthau) who is a confirmed bachelor. On their first date, given a choice of beverages from Burnett, Matthau answers "Whatever's the most trouble". It's the best line in the movie and it occurs way too early.
Next thing you know they are a married couple, and they are double blessed – or have a good fortune – since Pete is an avowed Atheist – when Tillie gives birth to a little boy that they call Robbie (Lee Montgomery). The years go by and, although they have their problems, the marriage is stable until one day, when he is nine years old, Robbie is diagnosed with a fatal illness.
Both Burnett and, particularly, Matthau were at the top of their game when this movie came out in 1972. In fact, Matthau's next film, Don Siegel's "Charley Varrick", contains his greatest performance. However, "Pete 'n' Tillie" is flat. The two stars seem afraid to let go and the script gives them nothing to hold on to. It looks and feels like a movie of the week when that term was used in a derogatory sense.
Each of them deals with the tragedy in their own way. Pete moves out, starts having affairs, and drowns his sorrows in alcohol. Tillie finds comfort in the company of her best friend Gertrude played by Geraldine Page. This was Page's fifth of her eight Oscar nominations. She gets a lot of mileage out of the fact that Gertrude never divulges her age. Then there is the long-drawn-out catfight with Burnett which served as the inspiration for the Anne Bancroft-Shirley MacLaine brawl in "The Turning Point" five years later. However (and I am a huge fan) she did not deserve the nod for this one. And then there is her other best friend Jimmy, the film's token gay guy, played by René Auberjonois, who had one of the most memorable names in cinema.
There is nothing special about Jimmy except that, somehow, he knows Gertrude's real age (well, he is the token gay guy). Meanwhile, director Martin Ritt and screenwriter Julius J. Epstein (Oscar nomination) make him into a kind of saint who has no life of his own. All he wants to do is take care of Tillie and he even offers to marry her if that would make her happy (she wisely refuses). Not exactly a gay stereotype, but a bit one-dimensional.
NOW STREAMING ON YOUTUBE
25. Play It As It Lays (1972)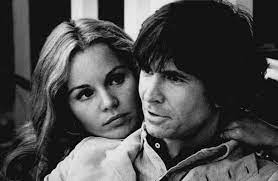 Frank Perry
GAY CHARACTER
*B.Z. Mendenhall (Anthony Perkins)
GAY ACTORS/WRITERS/DIRECTOR
Anthony Perkins
Director Frank Perry's first film following his divorce from screenwriter wife Eleanor, and she is sorely missed.
His choice was Joan Dideon's novel "Play It As It Lays."
Adaptation: Perry with Didion's husband John Gregory Dunne
Producers: Perry with Didion's brother-in-law Dominick Dunne
Tuesday Weld's Maria is a movie actress, who strolls on the grounds of a mental hospital, recalling the traumatic events which led to her breakdown. She is married to an unfaithful, self-engrossed director (Adam Roarke) who neglects her. Following a series of one-night stands she becomes pregnant. Her husband divorces her, and she has an illegal abortion. Maria's only friend is B.Z., a homosexual movie producer played by Anthony Perkins. World-weary, he tells Maria that he has discovered the meaning of life is nothing. He invites her to commit suicide with him. However, she decides to live and cradles him as dies after taking an overdose of sleeping tablets.
It's a very seventies movie, adapted from one of Didion's weaker novels. Unfortunately, despite a good performance by Weld, the film only comes alive when she is driving endlessly around LA's spectacular freeways. Perkins is passable in the underwritten role of another doomed homosexual.
NOW STREAMING ON YOUTUBE.
26. Summer Wishes, Winter Dreams (1973)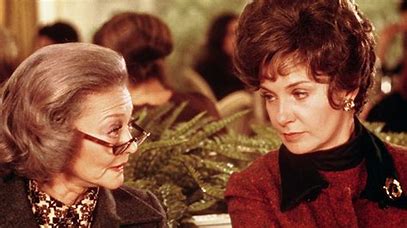 Gilbert Cates
GAY CHARACTER
*Bobby Walden (Ron Rickards)
In 1973, four years before we became accustomed to Woody Allen presenting us with various versions of Manhattan in all his movies from "Annie Hall" (1977) to "Melinda and Melinda" (2004), Gilbert Cates gave us a very Allenesque avant la lettre film "Summer Wishes, Winter Dreams". A Manhattan in which the characters shop at Saks, go to nice restaurants, and whose idea of a pleasant afternoon is seeing a screening of Ingmar Bergman's "Wild Strawberries" at a revival house with their mother.
That person is Rita Walden played beautifully by Joanne Woodward in what may be her best performance (Oscar nomination and the second of her three NYFCC awards for Best Actress). Rita is about to go through a midlife crisis, triggered by the death of said mother (a marvelous Sylvia Sidney who was also Oscar-nominated). There's her mother's estate to be taken care of. And then there is Rita's questioning of whether she made the correct choice in marrying her ophthalmologist husband, played by Martin Balsam in a beautifully understated performance that comes to dominate the latter half of the film.
Oh, and her son Bobby (Ron Rickards), who has moved incommunicado to Amsterdam is gay. Bobby only gets one scene and it's of the very creepy homophobic variety. Woodward accidentally intrudes on a potentially intimate moment between him and his "friend" in Bobby's bedroom. Bobby behaves abominably in that nasty way that only gay male characters can muster in Hollywood films. All the while his friend, a ballet dancer (of course!) keeps doing his little pirouettes and demi plies maintaining eye contact with Joanne in a vaguely confrontational manner. Well! This flashback occurs as a dream that Rita has after she nods off at the aforementioned "Wild Strawberries" screening.
The screenplay is by Stewart Stern who had dealt more sympathetically with homosexuality in such films as "Rebel Without a Cause" and " Rachel, Rachel".
NOW STREAMING ON YOUTUBE.
27. The Great Gatsby (1974)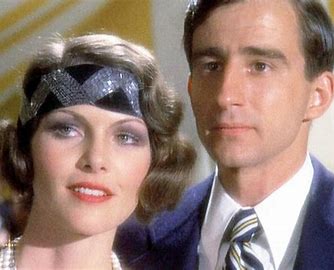 Jack Clayton
GAY CHARACTERS
*Nick Carraway (Sam Waterston)
*Jordan Baker (Lois Chiles)
I love to see you at my table, Nick. You remind me of a – of a rose, an absolute rose. (Daisy)
I hope she will be a fool… (Daisy)
They were careless people, Tom, and Daisy – they smashed up things and creatures and then retreated back into their money or their vast carelessness or whatever it was that kept them together and let other people clean up the mess they made (Nick)
Produced by David Merrick and directed by Jack Clayton, from an adaptation by none other than Francis Ford Coppola, the third film version of F. Scott Fitzgerald's Jazz Age masterpiece (the first two were also at Paramount as a silent film in 1926 with Warner Baxter – this film is now lost – and in 1949 with Alan Ladd as Gatsby) had an astonishing collection of talent both in front of and behind the camera. Unfortunately, Robert Redford was more like a mannequin than a character, although I have grown to like his performance over the years, and a novel of astonishing economy and grace was stretched out into a bloated 150 minutes.
There is, however, a feast of compensations. Sam Waterston is superb as the narrator and our first gay character Nick Carraway. He is more overtly gay in the novel where his detailed physical descriptions of the other male characters particularly Tom (Bruce Dern), catch our attention. His sensitive almost asexual presence here is equally striking, so much so that even Redford comes alive in their scenes together. People were sharply divided by Mia Farrow's Daisy Buchanan. Personally, I have always thought that Farrow made an endlessly fascinating Daisy, her charm just barely disguising the emptiness and selfishness lurking underneath the surface.
Then there is the supporting cast lead by Dern, his mistress Karen Black, and her poor struggling husband played by the always underrated Scott Wilson. This brings us to the film's more overtly gay character Jordan Baker who drives a car, is a professional golfer, and whose last name is a reference to a certain sexually fluid American ex-pat who, at the time of Gatsby's publication in 1925, was the toast of Paris. Lois Chiles was beautiful but bland and she brings this blandness over into her character who has devil-may-care invincibility about her. Jordan seems astonished at how liberating it is to be a woman of any sexual orientation in this amazing new decade. And unlike Daisy, whose choice is limited to choosing between Gatsby or Tom, a scandal or a trophy wife, her future, as a newly liberated woman, seems limitless. Chiles and Farrow would be paired again four years later in another famous adaptation, this time John Guillermin's very enjoyable version of Agatha Christie's "Death on the Nile" (1978).
Meanwhile, there are the endless parties at Gatsby including plenty of shots of female couples doing the black bottom – I would have to watch the film again to see if there are any quick cutaways to male-on-male shenanigans.
The film won two Oscars. One was for Theoni V. Aldredge's striking costumes which instituted a brief Gatsby fashion craze and beat out an astounding Best Costume Design lineup that year including Anthea Sylbert for "Chinatown", Theodora Van Runkle for "The Godfather Part II", Tony Walton for "Murder on the Orient Express" and John Furness for "Daisy Miller".
The second was for Nelson Riddle's adapted score which used the plaintive refrain from Irvin Berlin's 1923 song "What'll I Do" to profound effect.
The gorgeous cinematography was by Douglas Slocombe who should have been nominated but wasn't.
With Brooke Adams, very striking as a party guest (uncredited), and Patsy Kinset as Daisy and Tom's daughter.
NOW STREAMING ON AMAZON PRIME AND ON APPLE TV+
28. The Rocky Horror Picture Show (1975)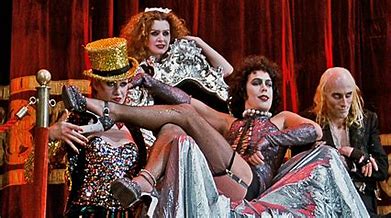 Jim Sharman
Every boy and every girl whether gay or straight must see Richard O'Brien's fantastical creation The Rocky Horror Picture Show. It has been running continuously on one stage or another/one film theatre or another for almost 50 years since its stage debut in London's West End in 1973 and the release of the Lou Adler-produced movie in 1975. It is, of course, a GROUP EXPERIENCE with those inspired zingers going back to the screen, composed by a generation of audience members over the years, being the real entertainment. So, let's join Brad (Barry Bostwick) and Janet (Susan Sarandon) as they find themselves in the world of Dr. Frank-N-Furter (the incredible Tim Curry), Riff Raff (O'Brien), Magenta (Patricia Quinn), Columbia, a Groupie (Nell Campbell aka Little Nell), Dr. Everett V. Scott, a rival scientist (Jonathan Adams), Eddie, an ex-delivery boy (Meat Loaf) and, finally, The Criminologist, An Expert (Charles Gray).
GAY CHARACTERS
Tim Curry as *Dr. Frank-N-Furter, The Eccentric Transvestite Scientist
GAY ACTORS/WRITERS/DIRECTOR
ACTOR: Tim Curry
MUSICAL NUMBERS
Science Fiction/Double Feature – The Lips (those of Patricia Quinn; the voice of Richard O'Brien).
Dammit, Janet – Brad, Janet, and Chorus.
There's a Light (Over at the Frankenstein Place) – Janet, Brad, Riff Raff, and Chorus.
The Time Warp – Riff Raff, Magenta, The Criminologist, Columbia, and Transylvanians.
Sweet Transvestite – Frank.
The Sword of Damocles – Rocky and Transylvanians.
Hot Patootie – Bless My Soul – Eddie and Transylvanian.
Touch-a, Touch-a, Touch-a, Touch Me – Janet with Magenta, Columbia, Rocky, Brad, Frank, and Riff Raf.
Rose Tint My World – Columbia, Rocky, Janet, and Brad.
Fanfare/Don't Dream It, Be It – Frank with Brad, Janet, Rocky, and Columbia.
Wild and Untamed Thing– Frank with Brad, Janet, Rocky, Columbia, and Riff Raff
I'm Going Home – Frank, and Chorus
The Time Warp (Reprise)– Riff Raff and Magenta
Science Fiction/Double Feature (Reprise)– The Lips
NOW SHOWING AT A LATE-NIGHT MOVIE THEATRE NEAR YOU EVERY FRIDAY AND SATURDAY NIGHT!
NOW STREAMING ON AMAZON PRIME AND ON APPLE TV+
29. Dog Day Afternoon (1975)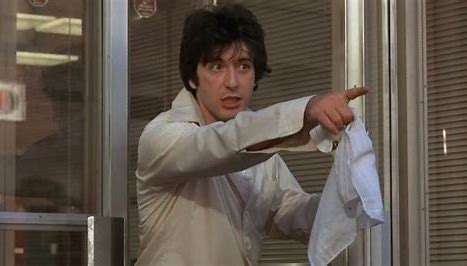 Sidney Lumet
GAY CHARACTERS
*Sonny Wortzik (Al Pacino)
*Leon Shermer (Chris Sarandon)
WITH BROKEBACK MOUNTAIN, THE BEST GAY MOVIE EVER MADE
1975: NOMINATED FOR:
BEST FILM | BEST DIRECTOR | BEST ACTOR IN A LEADING ROLE | BEST ACTOR IN A SUPPORTING ROLE
1975: OSCAR WINNER FOR BEST ORIGINAL SCREENPLAY
Sidney Lumet's masterpiece is based on true events. On a hot August afternoon in 1972, Sonny Wortzik (Al Pacino) and Sal Naturile (John Cazale) attempt to rob the First Brooklyn Savings Bank but only find $1,100 in cash and end up being surrounded by the police. Sonny wants the money to get his lover Leon a sex change and, as a long day journeys into night, things begin to turn into a circus.
Pacino is magnificent. With Michael Corleone in The Godfather movies, "Dog Day Afternoon" is his defining role. And director Sidney Lumet, working wonders in an enclosed space, gets the scenes between Sonny and Leon (Chris Sarandon, excellent) exactly right. Funny but endearing. Not a trace of condescension.
NOW STREAMING ON AMAZON PRIME AND ON APPLE TV+
30. Ode to Billy Joe (1976)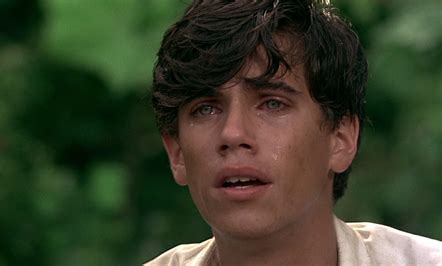 Max Baer
GAY CHARACTER
*Billy Joe McAllister (Robby Benson)
Why did Billy Joe McAllister jump off the Tallahassee Bridge? The question we have always been asking ourselves after listening to Bobbie Gentry's haunting song should have remained a mystery. That was the song's allure. The song's magic.
Unfortunately, in the summer of 1976, the mystery was "solved" by actor turned director Max Baer (formerly Jethro in "The Beverly Hillbillies") whether we liked it or not. The answer: because he slept with a man.
Robby Benson is not bad as the unfortunate title character. However, "Ode to Billy Joe" is reductive and backward-looking. The final scene can only be described as outrageous.
NOW STREAMING ON AMAZON PRIME AND ON APPLE TV+
31. Carrie (1976)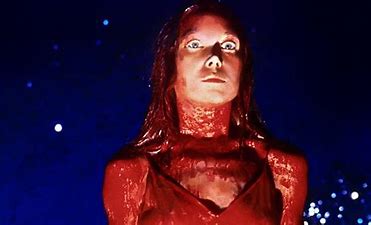 Brian De Palma
QUOTES
Plug it up! Plug it up! Plug it Up! Plug it up!

The girls (including Sue, Chris, Norma and Helen (Amy Irving, Nancy Allen, P.J. Soles, and Edie McClurg) as they throw tampons and sanitary pads at Carrie White in the communal shower after a game of volleyball which Carrie is responsible for losing. Carrie, hysterical and covered in blood with her arms outstretched, runs towards the girls after she experiences, at age sixteen, her first period. Her mother (Piper Laurie), a religious fanatic, has never told her about menstruation.
That was a really shitty thing you did yeaterday, a really shitty thing!

Miss Collins (Betty Buckley) to Sue (Amy Irving).
Ballots? Ballots anyone? Ballots?

Norma (P. J. Soles) collecting the ballots for the King and Queen of the school's prom. Norma then surreptitiously exchanges these ballotts for Chris' (Nancy Allen) preprepared ones, all of which have a check mark on the box labelled "CARRIE WHITE AND TOMMY ROSS".
I should have given you to God when you were born. But I was weak. I was backslidin'!

Margaret White (Piper Laurie) to Carrie White (Sissy Spacek).
He took me, with the stink of filthy roadhouse whiskey on his breath. And I liked it!

Margaret White to Carrie White.
I should've killed myself when he put it in me!

Margaret White to Carrie White!
After the blood come the boys!

Margaret White to Carrie White.
DIALOGUE
Margaret White (Piper Laurie): These are godless times. Mrs. Snell.
Mrs. Snell (Priscilla Pointer): I'll drink to that……….
Margaret White: I pray you find Jesus!
Margaret White: I might have known it would be red.
Carrie White: It's pink, Mama.
Margaret White: I can see your dirty pillows.
Carrie White: Breasts, Mama. They're called breasts, and every woman has them.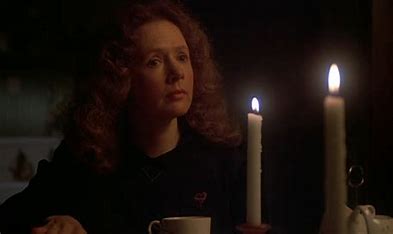 One of the GREAT HORROR MOVIES with tremendous performances from Sissy Spacek and Piper Laurie, the latter returning to the screen after a fifteen-year absence. Brian De Palma's masterpiece works, like "Mildred Pierce" and "Whatever Happened to Baby Jane", as drama and high camp simultaneously. We feel for Carrie while at the same time reveling in her mother's treasure chest of unforgettable lines. A list so long that it is sure to satisfy the gay sensibility of any red-blooded adolescent male! Oh, the one gay character in the movie is Betty Buckley's gym teacher who gets the plot rolling by coming down hard on the girls (that would be Nancy Allen and Amy Irving) after the "plug-it-up" scene in the showers. The unforgettable score, one of the all-time greats, is by Pino Donaggio.
NOW STREAMING ON AMAZON PRIME AND ON APPLE TV+
Directors | Actors | Writers
| | | | |
| --- | --- | --- | --- |
| DIRECTORS | ACTORS | ACTORS | WRITERS |
| Frank Perry (2) | Helmut Berger (2) ** | Mick Jagger (1) | Luchino Visconti (1) *** |
| John Schlesinger (2) * | Rod Steiger (2) | Robert La Tourneaux (1) ** | Giorgio Bassani (1) *** |
| Luchino Visconti (2) * | Bob Balaban (1) | Frank Langella (1) | Mart Crowley (1) *** |
| Robert Aldrich (1) | Alan Bates (1) ** | Laurence Luckinbill (1) | John Dyer (1) *** |
| Max Baer (1) | Robby Benson (1) | Michael Meyers (1) | Rainer Werner Fassbinder (1) *** |
| Gilbert Cates (1) | Dirk Bogarde (1) ** | Kenneth Nelson (1) ** | Christopher Isherwood (1) *** |
| Shirley Clarke (1) | Carol Brown (1) ** | Al Pacino (1) | Larry Kramer (1) *** |
| Jack Clayton (1) | Betty Buckley (1) | Estelle Parsons (1) | John Van Druton (1) *** |
| Brian De Palma (1) | Richard Burton (1) | Keith Prentice (1) ** | |
| Vittorio De Sica (1) | Margit Carstensen (1) | Douglas Rain (voice only) (1) | |
| Stanley Donen (1) | Frederick Colms (1) ** | John Randolph (1) | |
| Gordon Douglas (1) | Hume Cronyn (1) | Beryl Reid (1) | |
| Rainer Werner Fassbinder (1) * | Tim Curry (1) ** | Ron Rickards (1) | |
| John Flynn (1) | Sandy Dennis (1) | Chris Sarandon (1) | |
| Bob Fosse (1) | Peter Finch (1) | Hanna Schygulla (1) | |
| William Friedkin (1) | James Fox (1) | Jon Voight (1) | |
| Stanley Kubrick (1) | Leonard Frey (1) ** | Peter White (1) | |
| Sidney Lumet (1) | Cliff Gorman (1) | William Windom (1) | |
| Joseph L. Mankiewicz (1) | Reuben Greene (1) ** | Michael York (1) | |
| Larry Peerce (1) | Helmut Griem (1) | Susannah York (1) | |
| Paul Newman (1) | Rex Harrison (1) | | |
| Martin Ritt (1) | Irm Hermann (1) | | |
| Nicolas Roeg (1) | Anne Heywood (1) | | |
| Ken Russell (1) | Dustin Hoffman (1) | | |
| Mark Rydell (1) | Jason Holliday (1) ** | | |
| Jim Sharman (1) | Bernard Hughes (1) | | |
| Billy Wilder (1) | | | |
*gay director **gay actor ***gay writer