Mark Rylance Shines in "The Outfit".
Mark Rylance is Leonard Burling, A tailor or, more precisely, a cutter of men's clothes, Leonard trained and worked for years on London's famed Savile row but left England for America under mysterious circumstances after WW II. It is now 1956 and he has a nice cozy shop in Chicago. The movie begins with a marvelous voiceover by Rylance instructing us on the complexities of making a suit (men only). This device is used as a caesura several times during the film as he leads us from the four types of fabrics to the finished product.
Graham Moore
"The Outfit" marks the directorial debut of Graham Moore who won an Oscar for Best Adapted Screenplay for "The Imitation Game" in 2015. This time he's working on an original screenplay that he co-wrote with Jonathan McClain, and it is smart and scintillating. He also does a wonderful job of directing, at least in the first half of the movie. The action is confined entirely to Leonard's shop and, as the movie proceeds, you get to know the place intimately. You feel Moore has done his homework and studied the mise-en-scene of Sidney Lumet's "Dog Day Afternoon" and Elia Kazan's "A Streetcar Named Desire", the two greatest movies in which the story unfolds in an exceedingly small space.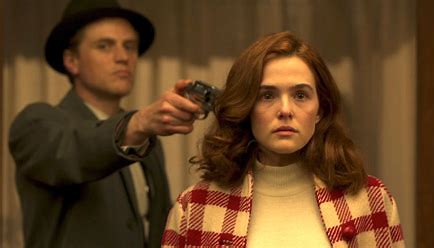 Simon Russell Beale
Leonard's shop is in a neighborhood controlled by Irish mob boss Roy Boyle (the always excellent Simon Russell Beale), his chief goon Francis (Johnny Flynn), and Boyle's son Richie (Dylan O'Brien). There is also a mysterious letterbox in the shop into which various shady-looking men keep dropping packages in short montages. The other character in the film, who looms larger as the plot progresses, is Leonard's assistant Mable. She is played by Zoey Deutch, daughter of director Howard Deutch, and actress Lea Thompson. The plot hinges on the said letter box, an incriminating tape and Leonard's precarious position as his shop becomes the center of an escalating mob war. The film's title refers to a mob organization that may or may not exist.
Alexandre Desplat
The first half of the film is by far the best and the most nuanced. It relies on Rylance's near-great, supremely subtle performance to convey the smallest details. There is an air of anticipation, aided by Alexandre Desplat's subtle string score… Rylance has a pair of shears with which he lovingly cuts his fabric. A present from his late wife, he caresses them like a lover, and we know that they will be put to effective use as a defense weapon.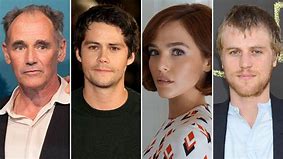 Johnny Flynn
Unfortunately, as "The Outfit" proceeds we are treated, as "Sleuth"-like, to one surprise after another, and the movie, gradually, begins to fall flat. The action of the second half does not equal the suspense of the first. Also, apart from Russell Beale, the other actors do not catch our interest. Deutch and Flynn do their best but, after spending 45 minutes in Leonard's mindset, they come across as both bland and petty. Flynn who has shown up all over the place from playing Bowie to starring in "Beast" and "Emma", always looks like he is on the verge of breaking through. However, despite all the cunning and bravado, Francis is never completely convincing as a racketeer or an American, and his "Halloween" climactic rise from the dead comes off as a cheap ploy. We, the audience, would have been better served if Moore had kept his focus on Rylance's performance. It is what makes this movie worth seeing.
NOW STREAMING ON AMAZON PRIME VIDEO AND APPLE TV+