This beautiful film, based on the novel "Le Otto Montagne" by Paolo Cognetti, and adapted and co-directed by the Belgian team of Felix van Groeningen and Charlotte Vandermeersch, focuses on the friendship of two men in a remote Alpine village over three decades from their early teens to their early forties.
Luca Marinelli is Pietro (with Lupo Barbiero as the young Pietro and Andrea Palma as the adolescent Pietro), from Turin who comes to vacation in the village with his family every summer, while Alessandro Borghi is Bruno (with Cristiano Sassella as the young Bruno and Francesco Palombelli as the adolescent Bruno), the local cheese merchant's son.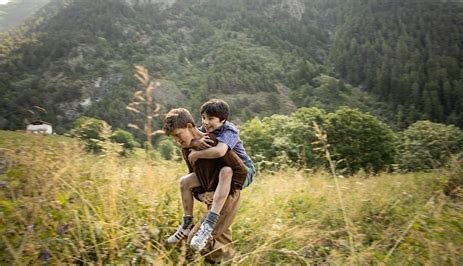 They immediately bond, and although they are separated by vast distances over the years, Pietro always comes back to the village, and they take up their friendship where they left off. The deep bond between the two men is beautifully conveyed without ever becoming overtly sexual. Marinelli was astonishing in Marin Eden (2020), and he is almost as spectacular here, his gorgeous green eyes registering every emotion. In fact, if there is a weakness in the film, it is Borghi's subservient screen presence relative to Marinelli's. This changes dramatically, however, in the film's final sequence, where Bruno, disillusioned after decades of being taken advantage of, has an argument with his old friend that is both cathartic and heartbreaking.
With stunning cinematography, a lovely score, and a voice-over narration that affirms the film's literary origins without being intrusive, "The Eight Mountains" is essential viewing.
NOW SHOWING AT SELECTED MOVIE THEATRES.