Ricky D'Ambrose's haunting movie "The Cathedral" catches you off-guard with a matter-of-fact voiceover (by Madeleine James). It's the early 1980s, and she informs us that Jesse Damrosch was conceived in Puerto Rico around the same time his Uncle died from AIDS. The family tells everyone that he died of hepatitis he caught from using dirty utensils at a restaurant. This is the first of many familial untruths that Jesse will see and hear unfold during his formative years.
The film is told from his point of view. We meet his extended family on both sides. His mother and father quarrel, divorce, and remarry. Gradually, we begin to feel a sadness surrounding Jesse (played at different ages by Robert Levy II and William Bender-Carter). The sadness that we sometimes detect in intelligent kids who see everything but can do little to change or influence the events unfolding around them.
D'Ambrose direction is reminiscent of John Cassavetes. He places his camera (sometimes taking Jesse's POV) and lets the action unfold, as his actors enter and exit the scene. Sometimes, the most important details occur just off-camera. However, unlike Cassavetes, D'Ambrose knows when to cut and the audience is rewarded with a free-flowing narrative that at no time seems bogged down with directorial intent – although pure coincidence, it feels right that D'Ambrose recently won the John Cassavetes Award for a movie made for less than $1 million dollars at this year's Independent Spirit Awards.
There are also echoes of the Documentary or Direct Cinema of Albert and David Maysles, especially during their golden period of the late sixties to the mid-seventies when they turned their attention to the family unit in such masterpieces as "Salesman" (1968) and "Grey Gardens" (1975).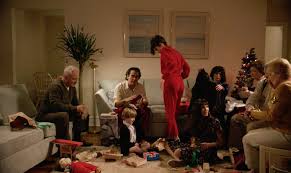 Telling a story from a child's point of view began with Henry James' landmark 1897 novel "What Maisie Knew" and the cinema has flirted with this narrative device over the years to varying degrees of success. John Ford's "How Green Was My Valley" from the Richard Llewellyn novel and Delbert Mann's 'The Dark at the Top of the Stairs" from the William Inge play are excellent films in this genre. Even "Maisie" itself, updated to the current era with a Rock music milieu and starring Julianne Moore and Alexander Skarsgard, was filmed beautifully, I thought, by the directorial team of Scott McGehee and David Siegel a few years back.
However, no movie has stayed inside the mind of the child protagonist as profoundly as "The Cathedral". Of the huge cast only Jesse's father Richard, in a ferocious performance by Brian d'Arcy James, stays with you. As a man who is consumed with rage and self-pity, at what he perceives the world has done to him, he is, for better or for worse, the guiding force in Jesse's life.
In the end, Jesse gets his own voiceover, appropriately, in a film class as he explains the lighting in a photograph he took of his two aunts in happier times. And the sadness is there, in his voice. The sadness that we all take with us from our families.
NOW STREAMING ON AMAZON PRIME AND APPLE TV+