The immaculate comedic timing is still there, only now it unfolds at a slower pace, as Michael's brain, ravaged by the effects of Parkinson's Disease, which he has lived with for 32 years, attempts to reach the rest of his body. In Oscar winner Davis Guggenheim's ("An Inconvenient Truth") superb documentary, there is only one taking head and that is Michael. Self-deprecating, affable Micheal.
But there is another Michael here, the Michael J. Fox of "Family Ties" and the "Back to the Future" movies, "The Secret of My Success", "Bright Lights Big City", "Casualties of War" and "Spin City", scenes from which Guggenheim superbly integrates into Michael's narrative as if we were watching the real-life story of Michael J.Fox. There's also a great soundtrack with Kenny Loggins's "This Is It" accompanying Michael's decision to leave Canada for Hollywood and Alan Silvestri's theme from "Back to the Future" playing as Michael, with two hours of sleep a night, goes back and forth between the "Family Ties" and the "Back to the Future" sets, replacing Eric Stoltz after most of the movie had been shot.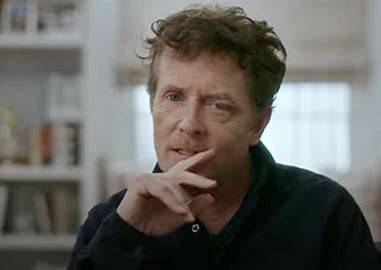 Fox is a wonderful subject and only occasionally do we hear Guggenheim prodding him the odd question. We listen as Michael outlines the first symptoms of the disease – a finger twitch at dawn that sounded to him like the vibrating wings of a trapped moth as he wakes up from a night on the town while filming the movie "Doc Holiday". His marriage to actress Tracy Pollan, who he met on the set of "Family Ties", and who has stood by him through thick and thin all these years, and their four children. And his years on the "Spin City" (1996-2002) and the ingenious ways he devised to disguise his tremors – like holding a pen to steady his arm – before he made his disease public in 1998. Since then he has been a tireless advocate for Parkinson's Disease research. The film's title, in all its double meaning, says it all.
It's a heartbreaking story but delivered by someone who is the embodiment of hope. It's a joy to be in his company.
NOW SHOWING AT SELECT MOVIE THEATRES AND STREAMING ON APPLE TV+