"Pearl" is the first part of writer/director Ti West's and co-writer/leading actress Mia Goth's horror trilogy. The three parts of the story are, ingeniously, set in three different time periods, which span the beginning, the late middle, and the latter parts of the twentieth century. It's deliciously entertaining, and Mia Goth astonishes, giving one of the definitive horror performances.
Although "Pearl" is the first part of the series, it was filmed second, after "X", and before "MaXXXine."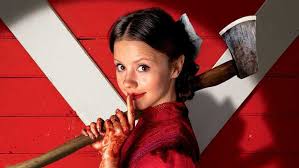 PART ONE. PEARL (1918).
SET DURING THE WANING DAYS OF WWI AND THE SPANISH INFLUENZA PANDEMIC.
Pearl (Mia Goth) is a young woman who loves to dance and dreams of Hollywood. Rejected and treated very badly by her first-generation German-American mother, who, being afraid of both the community's anti-German sentiment and the virus, never leaves their midwestern farm and also prevents Pearl from doing so. As a result, Pearl has no friends. Her husband has enlisted and is overseas in Europe, while her father has been rendered mute and paralyzed by an influenza-related stroke. Mirroring the title character in Helen Reddy's "Angie Baby" (1974), she is a little touched, and then she goes on a murderous rampage.
Goth is sensational, transforming, before our eyes, into the scream queen de jour – this is taking nothing away from previous title holder Malika Monroe who is always appearing in something interesting. Goth's work here is on a par with that of Sissy Spacek in "Carrie" (1976) and Jamie Lee Curtis in "Halloween" (1978). The excellent supporting cast includes Tandi Wright (mother), Matthew Sutherland (father), Emma Jenkins-Purro (sister-in-law), and David Corenswet (the local movie theater projectionist who shows her an early porn film), with director West pulling out all the stops in giving us one of the best horror movies of recent years. The gorgeous lush score (echoes of Pino Donnagio) is by Tyler Bates (with Timothy Williams), and Eliot Rocket's cinematography is also very impressive.
Nominated for Best Actress (Mia Goth) at the 2022 Independent Spirit Awards.
Nominated for Best Cinematography (Eliot Rocket) at the 2022 Independent Spirit Awards.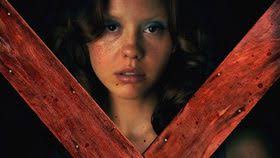 PART TWO. X (1974).
PEARL SOMEHOW EVADED PROSECUTION FOR THE TERRIBLE EVENTS OF 1918. MAYBE, SHE SPENT SOME TIME IN A MENTAL ASYLUM AND HAS SINCE BEEN RELEASED? AND NOW, 56 YEARS LATER, SHE IS A-74-YEAR-OLD CRONE.
A bunch of ambitious young folks decide to set up camp on Pearl's farm after talking to a guy that we presume is her husband. They are there to make a cheap softcore (evolving into a hardcore)-porn/horror movie (un hommage à la "The Texas Chainsaw Massacre."). Pearl recognizes something of herself in one of the visitors, a pretty young girl named Maxine who has run away from home – something that she was never able to accomplish herself – and Goth plays both parts brilliantly. Pearl secretly watches a sex scene in which Maxine is vigorously penetrated, and they both reach orgasm together. Pearl later butchers everyone on the farm except Maxine. Why is Maxine spared?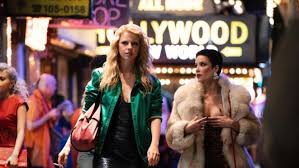 PART THREE. MaXXXine (1980s).
MAXINE JOURNEYS TO LA TO BECOME A STAR.
The final part of the triptych has Maxine (again played by Goth, who, again, co-wrote the screenplay with director Ti West) journeying to Hollywood to become a star and bringing us full circle back to Pearl. Halsey makes a special guest appearance. Filming has been completed (all three parts were filmed in New Zealand during COVID), and "MaXXXine" is due for release later this year.
Both "X" and "Pearl" are streaming separately and as part of a combo on Amazon Prime Video, Apple TV+, and Hulu. "MaXXXinew" has a teaser trailer and will be released in theatres later this year.