This post is the first portion of a multi-piece article dealing with Queer Film. It is not meant to be an in-depth chronicle of Queer Cinema. It reflects the big screen portrayal of the LGBTQ+ community as seen by me, a gay man who, although a medical doctor by profession, fell in love with movies at an early age. A gay man who grew up and went to college and medical school in Ireland and, by chance, got the opportunity to review movies in the mid-nineteen eighties, first for "In Dublin" and then for "The Irish Times." I have lived in Los Angeles since the mid-nineteen nineties.
What is Queer Cinema? It can mean different things to different people. If there is a gay character that is a character and not a prop for straight people to laugh at, then it's Queer Cinema. It's also a sensibility. A sensibility that would bring movies like "The Bride of Frankenstein," "The Women," and "Auntie Mame" under the queer umbrella even if they didn't have gay supporting characters. The fact that gay men directed all these movies completes the picture!
In these posts, I have attached an asterisk to the name of the gay character while the actor's name playing the gay character is in parenthesis.
If an actor in the movie or the film's writer or director is (was) gay in real life, their names are also listed.
Since more gay movies have been made as the years have unfolded, the periods covered in the following posts will get progressively shorter as I want to keep the number of films listed to less than 50 per post.
Today's post spans 1934 to 1967: Queer cinema under the notorious Hays Code, which, although formulated in the early twenties, was only enforced, in earnest, with the arrival of Joseph Breen in 1934.
1934 Hays Code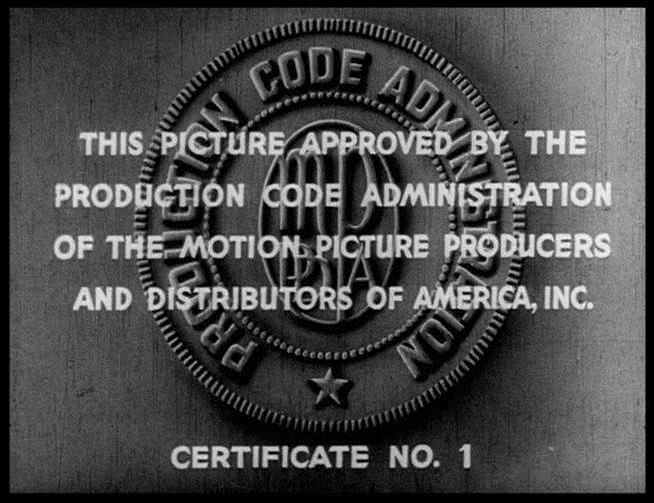 Under Breen, overt references to sexuality, particularly homosexuality, were frowned upon.
As a result, gay or straight directors, writers, and actors had to be more creative in presenting while disguising a gay character.
The following fifty-four Queer Films were all released during the Hays Code era (1934-1967).
Forty-seven were APPROVED.
"Kind Hearts and Coronets" and 'Persona" required cutting before being released in the US. These scenes have now been restored.
"Victim" was released without a stamp of approval.
"Some Like it Hot," "A Taste of Honey," "The Leather Boys," and "My Hustler" did not seek approval and were released without giving any mind whatsoever to the Hays Office. Billy Wilder's decision not to submit "Some Like It Hot" signaled the beginning of the end of the Hays Code.
1. The Bride of Frankenstein (1935)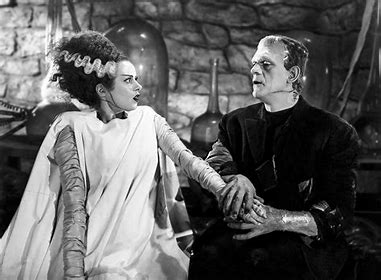 James Whale
(APPROVED)
GAY CHARACTER
*Dr. Pretorius (Ernest Thesiger)
GAY ACTORS/WRITERS/DIRECTOR
DIRECTOR: James Whale
ACTOR: Ernest Thesiger
Susan Sontag: Notes on Camp: 1964: The Partisan Review
You thought it (camp) meant a swishy little boy with peroxided hair, dressed in a picture hat and a feather boa, pretending to be Marlene Dietrich? Yes, in queer circles they call that camping. … You can call [it] Low Camp…

Susan Sontag: The Partisan Review 1964
High Camp is the whole emotional basis for ballet, for example, and of course of baroque art … High Camp always has an underlying seriousness. You can't camp about something you don't take seriously. You're not making fun of it, you're making fun out of it. You're expressing what's basically serious to you in terms of fun and artifice and elegance. Baroque art is basically camp about religion. The ballet is camp about love …

Susan Sontag: The Partisan Review 1964
Director James Whale's (see "Gods and Monsters" later in the series) masterpiece is as close to Susan Sontag's definition of high camp as the movies can deliver. Meanwhile, Elsa Lanchester's star is born in the title role, sporting the most creative "do" in cinema history. Gay actor Ernest Thesiger, whose portrait was sketched by no less than John Singer Sargent in 1911, gives his most famous performance as Dr. Frankenstein's gay mentor, Dr. Pretorious.
NOW STREAMING ON AMAZON PRIME VIDEO AND ON APPLE TV+
2. Top Hat (1935)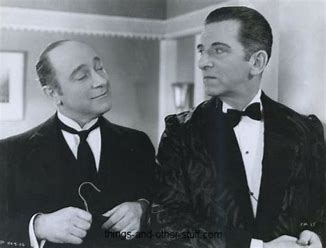 Mark Sandrich
(APPROVED)
GAY CHARACTERS
*Horace Hardwick (Edward Everett Horton)

*Bates (Eric Blore)
GAY ACTORS/WRITERS/DIRECTOR
ACTOR: Edward Everett Horton

ACTOR: Erik Rhodes
Of the nine films Astaire and Rogers made at RKO Pictures in the thirties, "Top Hat" is their best. It's also their most indubitably gay, with Eric Blore (who was straight in real life) doing his butler with a superior attitude and Edward Everett Horton, whose own unique variation on the double take (an actor's reaction to something, followed by a delayed, more extreme response) had yet to become tiresome.
The songs by Irving Berlin are some of his best, and the dance to Cheek to Cheek is Astaire-Rogers at its peak.
Gay actor Erik Rhodes, who had also appeared in "The Gay Divorcee" the previous year, makes an indelible impression as Alberto Beddini, a dandified Italian fashion designer with a penchant for malapropisms. Rhodes spent most of his life on Broadway; the rest of his Hollywood output was mostly forgettable.
The production design of the film (by Carroll Clark, with Van Nest Polglase being the head of the design department) marked the peak of the Art Deco movement in Hollywood
CREDITS
Cinematography: David Abel.
Screenplay: Allan Scott and Dwight Taylor
Production Design: Carroll Clark and Van Nest Polglase
Songs: Irving Berlin.
Choreography by Fred Astaire and Hermes Pan
THE PLAYERS
Fred Astaire as Jerry Travers
Ginger Rogers as Dale Tremont
Edward Everett Horton as Horace Hardwick
Erik Rhodes as Alberto Beddini
Helen Broderick as Madge Hardwick
Eric Blore as Bates
SONGS BY IRVING BERLIN
No Strings (I'm Fancy-Free)
Isn't This a Lovely Day (to be Caught in the Rain)
Top Hat, White Tie and Tails
Cheek to Cheek
The Piccolino
ASTAIRE-ROGERS AT RKO
Flying Down to Rio (1933)
The Gay Divorcee (1934)
Roberta (1935)
Top Hat (1935)
Follow the Fleet (1936)
Swing Time (1936)
Shall We Dance (1937)
Carefree (1938)
The Story of Vernon and Irene Castle (1939)
NOW STREAMING ON AMAZON PRIME VIDEO AND ON APPLE TV+
3. Sylvia Scarlett (1935)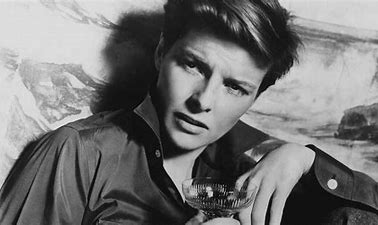 George Cukor
(APPROVED)
GAY CHARACTER
*Sylvia/Sylvester Scarlett (Katherine Hepburn) – Both gay and trans, Sylvia/Sylvester set the bar impossibly high for years to come.
GAY ACTORS/WRITERS/DIRECTOR
DIRECTOR: George Cukor
ACTOR: Cary Grant
ACTRESS: Katherine Hepburn
Hepburn plays a female con artist who dresses as a boy to avoid the police. One of the great financial disasters of the 1930s, it almost brought RKO to its knees. The first of four Hepburn/Grant pairings; the others were "Holiday" and "Bringing Up Baby" (both 1938) and "The Philadelphia Story" (1940).
NOW STREAMING ON AMAZON PRIME VIDEO AND ON APPLE TV+
4. The Women (1939)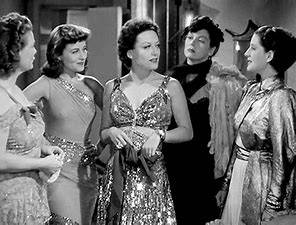 George Cukor
(APPROVED)
GAY CHARACTER
*Nancy Blake (Florence Nash)
GAY ACTORS/WRITERS/DIRECTOR
DIRECTOR: George Cukor

ACTRESS: Marjorie Main
"The Women" has the distinction of being the first American film with an all-female cast. All the art featured in the movie was by women. The screenplay was by two women (Anita Loos and Jane Murfin) based on a play written by a woman ("The Women" by Claire Booth Luce from 1936). All the animals featured were female. Unfortunately, this being 1939, everyone behind the camera was male, albeit with Hollywood's most outstanding gay director, George Cukor, at the helm just one month after being fired from "Gone with the Wind" for, by some accounts, being too gay! The only apparent lesbian, an "old maid" who always wears slacks – no, it's not Katherine Hepburn – is played by Florence Nash.
NOW STREAMING ON AMAZON PRIME VIDEO AND ON APPLE TV+
5. The Wizard of Oz (1939)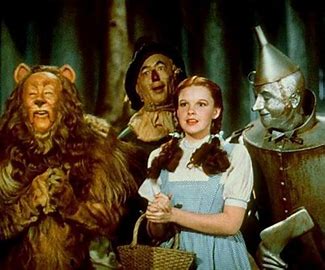 Victor Fleming
(APPROVED)
GAY CHARACTER
*Cowardly Lion (Bert Lahr)
Judy Garland/Dorothy: She is the mother of all of us! Before there was Barbra, before there was Liza, before there was Madonna, before there was Lady Gaga, there was Judy.
How and why gay men came to refer to themselves as "Friends of Dorothy," I don't know. Judy Garland was not gay, but something glorious about her performance in "The Wizard of Oz" captured most people's hearts, gay or straight. Something vulnerable yet confident. And there's that incredible voice at once innocent and knowing. She gets to sing the most astonishing movie song ever written, "Over the Rainbow," thanks to the genius of Harold Arlen (music) and Yip Harburg (lyrics). Photographed in glorious Technicolor by Harold Rosson (bookended by black and white for Kansas) and directed by Victor Fleming, the man who took over "Gone with the Wind" after George Cukor was fired. Queer Cinema can be a small world. Oh, of course, Bert Lahr's Cowardly Lion was gay. Almost forgot!
NOW STREAMING ON AMAZON PRIME VIDEO AND ON APPLE TV+
6. Rebecca (1940)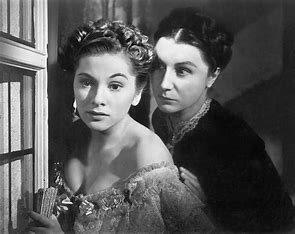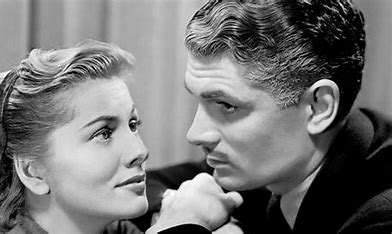 (APPROVED)
GAY CHARACTER
*Mrs. Danvers (Judith Anderson)
GAY ACTORS/WRITERS/DIRECTOR
ACTRESS: JUDITH ANDERSON
Hitchcock preferred casting gay actors in gay parts, whether Judith Anderson, Farley Granger, or Anthony Perkins.
Perfection. "Rebecca" marked the arrival in Hollywood (courtesy of "Gone with the Wind," producer Mr. David O. Selznick) of the man who was, or would eventually become, the greatest director in the history of cinema. Superb performance by Joan Fontaine, who showed that she was every bit as talented as her sister, the great Olivia de Havilland.
Music by Franz Waxman. Oscar-winning cinematography by George Barnes. Excellent work, too, by Sir Laurence Olivier, George Sanders, Reginald Denny, and Gladys Cooper.
NOW AVAILABLE FOR STREAMING ON YOUTUBE (Cine Moi)
7. The Maltese Falcon (1941)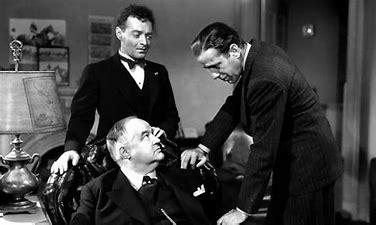 (APPROVED)
GAY CHARACTERS
*Kasper Gutman (Sydney Greenstreet)
*Joel Cairo (Peter Lorre)

*Wilmer Cook (Elisha Cook Jr)
Everyone knows that Peter Lorre's character, Joel Cairo, is gay. Even Sam Spade (Humphrey Bogart) knows. Sam will only slap Joel, never giving him the dignity of a punch. Wilmer (Elisha Cook Jr.) is referred to as "Wilmer the gunzel," "gunzel" being an old English term for "kept boy" or homosexual. Since he is Kasper Gutman's kept boy, I can only assume that Sydney Greenstreet's character is also gay. Splendid, Dear Boy!
NOW STREAMING ON AMAZON PRIME VIDEO AND ON APPLE TV+
8. The Man Who Came to Dinner (1942)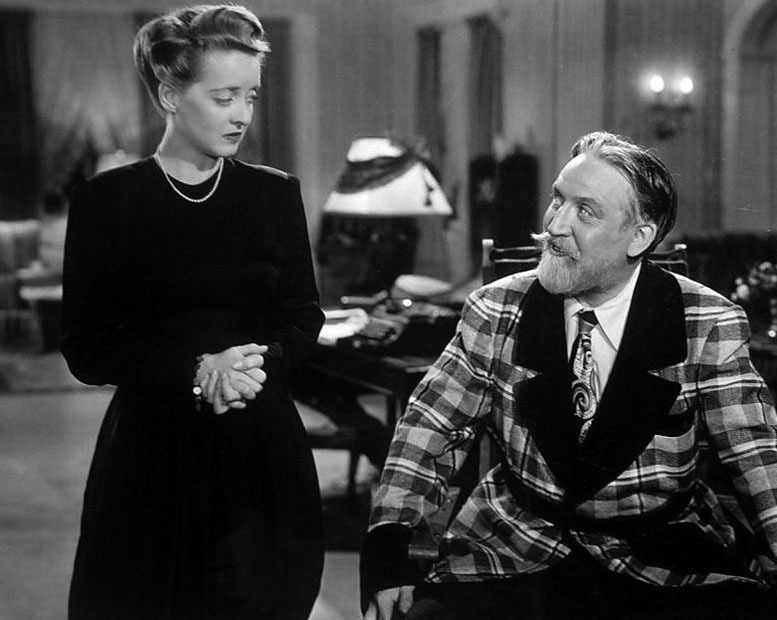 William Keighley
(APPROVED)
GAY CHARACTER
*Sheridan Whiteside (Monty Wooley)
GAY ACTORS/WRITERS/DIRECTOR
ACTOR: Monty Wooley
Monty Wooley delights himself and his audience by playing the impossibly pompous Sheridan Whiteside in William Keighley's wonderful 1941 adaptation of George Kauffman/Moss Hart's play "The Man Who Came to Dinner."
While passing through small-town Ohio during a cross-country lecture tour, Whiteside breaks his hip after slipping and falling on the icy steps of the house of the Stanleys, a prominent Ohio family with whom he's supposed to dine as a publicity stunt. He insists on recuperating in their home during the Christmas holidays.
The character of Whiteside is based on Kauffman and Hart's good friend, the theatre critic Alexander Woollcott. Bette Davis is perfection playing Whiteside's long-suffering yet understanding secretary. It's one of her few comedic roles, making you wonder why she didn't do more.
The excellent supporting cast includes Ann Sheridan, nicely parodying herself, Richard Travis as Miss Davis' love interest, the irrepressible Jimmy Durante singing "Did You Ever Have the Feeling That You Wanted to Go, And Still Have the Feeling That You Wanted to Stay?", Mary Wickes as Nurse Preen who has the unenviable task of nursing Whiteside back to health, Reginald Gardiner doing a parody of Noel Coward, and Billie Burke and Grant Mitchell as the unfortunate Mr. and Mrs. Stanley.
I am not only walking out on this case, Mr. Whiteside, I am leaving the nursing profession. I became a nurse because all my life, ever since I was a little girl, I was filled with the idea of serving a suffering humanity. After one month with you, Mr. Whiteside, I am going to work in a munitions factory. From now on, anything I can do to help exterminate the human race will fill me with the greatest of pleasure. If Florence Nightingale had ever nursed YOU, Mr. Whiteside, she would have married Jack the Ripper instead of founding the Red Cross! (sic)

Nurse Preen (Mary Wickes)

Monty Wooley, Clifton Webb, and Cole Porter were at the nexus of New York's gay scene during the Roaring Twenties.
NOW STREAMING ON AMAZON PRIME VIDEO AND ON APPLE TV+
9. Laura (1944)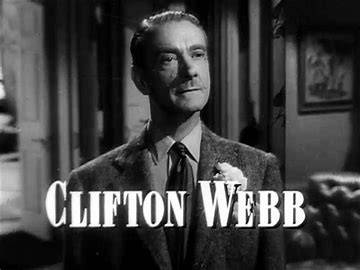 Otto Preminger
(APPROVED)
GAY CHARACTERS
*Waldo Lydecker (Clifton Webb)
*Shelby Carpenter (Vincent Price)
*Anne Treadwell (Judith Anderson)
GAY ACTORS/WRITERS/DIRECTOR
ACTOR: Clifton Webb
ACTOR: Vincent Price
ACTRESS: Judith Anderson
One of the reasons for firing "Laura's" original director, Rouben Mamoulian, was his attitude towards Webb. His less-than-stellar treatment of the seasoned theatrical actor on the set because of his sexual orientation has become the stuff of Hollywood lore. However, a more likely reason for his dismissal was the direction he was taking the material. Remember, Mamoulian is more famous for the films he didn't make (was fired from) than those he did – in addition to "Laura," he was also fired from the sets of "Oklahoma" and "Cleopatra." Zanuck then handed the film over to producer Otto Preminger. It was a stroke of sheer genius that will never be forgotten.
NOW STREAMING ON AMAZON PRIME VIDEO AND ON APPLE TV+
10. Double Indemnity (1944)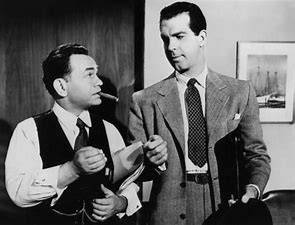 Billy Wilder
(APPROVED)
GAY CHARACTERS
*Walter Neff (Fred MacMurray)
*Barton Keyes (Edward G. Robinson)
The love affair is between Walter Neff (Fred MacMurray) and Barton Keyes (Edward G. Robinson). That is how Billy Wilder adapted (with Raymond Chandler from the novel by James M. Cain) and directed it. The attraction between Walter and Phyllis Dietrichson (Barbara Stanwyck) is more of a power dynamic. There is no love there.
NOW STREAMING ON AMAZON PRIME VIDEO AND ON APPLE TV+
11. The Picture of Dorian Gray (1945)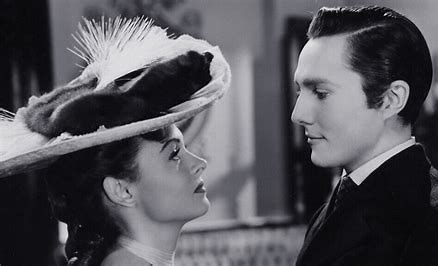 Albert Lewin
(APPROVED)
GAY CHARACTERS
*Dorian Gray (Hurd Hatfield)
*Basil Hallward (Lowell Gilmore)
GAY ACTORS/WRITERS/DIRECTOR
ACTOR: Hurd Hatfield
ACTOR: Lowell Gilmore
Having worked as Irving Thalberg's closest assistant for most of the Thirties at MGM, Albert Lewin became a producer at Paramount after the" boy wonder" passed away at age 37 in 1936. Always a man with great literary aspirations, he went one step further and became a writer/director, debuting with a mediocre adaption of Somerset Maugham's "The Moon and Sixpence." However, back at MGM, he directed his masterpiece, a superb adaptation of Oscar Wild's "The Picture of Dorian Gray" with an impossibly beautiful Hurd Hatfield as Dorian – the fact that his performance was subtle to the point of understatement has always seemed exactly suitable to me. He's like Tyrone Power with a permanent facial mask.
Beautifully handled by Lewin, it is one of MGM's best movies of the Forties, boasting superb production design and gorgeous black and white cinematography by Oscar winner Harry Stradling – breaking into color for the climactic closeup of Ivan Le Lorraine Albright's infamous painting now at the Art Institute of Chicago. The superb cast includes George Sanders as Lord Henry Wotton, Wild's heterosexual stand-in, scattering his bon mots like rose petals at a wedding, Angela Lansbury getting her second Oscar nomination in two years as Sybil Vane, the young girl that Dorian destroys, which seals his fate, Richard Fraser as her vengeful brother and Peter Lawford and Donna Reed both looking impossibly fresh and youthful. Finally, there is Dorian's best friend, Basil Hallward. He is played by gay actor Lowell Gilmore, who, like Hatfield, deserved much better from Hollywood.
NOW STREAMING ON AMAZON PRIME VIDEO AND ON APPLE TV+
12. Gilda (1946)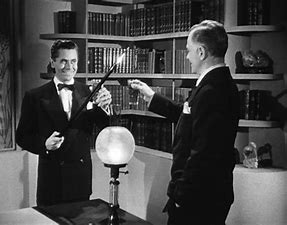 Charles Vidor
(APPROVED)
GAY CHARACTERS
*Johnny Farrell (Glenn Ford)
*Ballin Mundson (George Macready)
Although Glenn Ford and George Macready always insisted that they believed their characters were gay, director Charles Vidor disagreed. I find it difficult to detect a gay subtext in this movie. The story is so chaotic that it is difficult to uncover anything.
That's not to say that the movie is not worth seeing. It is. Feast your eyes on Vidor's stylish direction, Rudolph Mate's lush black-and-white cinematography (unusual for a noir film), the Jean Louis gowns, and, of course, Rita Hayworth as Gilda, one of Hollywood's most iconic heroines.
NOW STREAMING ON AMAZON PRIME VIDEO AND ON APPLE TV+
13. Night and Day (1946)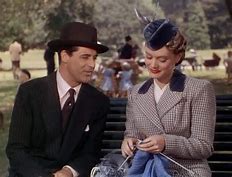 Michael Curtiz
(APPROVED)
GAY CHARACTERS.
*Monty Wooley playing himself
GAY ACTORS/WRITERS/DIRECTOR
ACTOR: Cary Grant
ACTOR: Monty Wooley
In Warner Bros.'s highly fictionalized biography of Cole Porter, we get a heterosexual Porter (played by Cary Grant) happily married (Alexis Smith plays his wife, Linda). However, never underestimate Monty Wooley, who, playing himself – he was Porter's best friend – marks this movie as Queer Cinema. The other member of the notorious Porter-Webb-Wooley triumvirate had just become a major star and was making "The Razor's Edge" over on Pico Blvd at TCF.
Porter loved the movie – he got to be Cary Grant for two hours – an enormous success.
NOW STREAMING ON AMAZON PRIME VIDEO AND ON APPLE TV+
14. Red River (1948)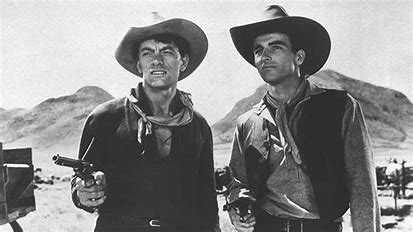 Howard Hawks
(APPROVED)
GAY CHARACTERS
*Matt Garth (Montgomery Clift)
*Cherry Valance (John Ireland)
GAY ACTORS/WRITERS/DIRECTOR
ACTOR: Montgomery Clift
In one of the greatest Westerns ever made, director Howard Hawks takes us along the infamous Chisholm Trail, and the first cattle drive from Texas to Kansas. In one of his most emblematic roles, John Wayne is Thomas Dunson, the rancher who initiates the affair, while Montgomery Clift is Garth, his adopted adult son. Of course, they clash at every opportunity in the excellent script by Borden Chase and Charles Schnee. The year was1948 and Clift was breaking out all over, his star being born repeatedly in his dramatic confrontations with Wayne, his American soldier in Fred Zinnemann's "The Search" and as the unfortunate gentleman caller in William Wyler's "The Heiress."
"River" was his film debut, and it's kudos all the way, particularly when you realize that he was diving in at the deep end by doing some major flirting with John Ireland's gunslinger Cheery Valance. The two become inseparable, and, in one classic scene, Valance asks to see Garth's gun. They compare sizes and have a shootout! It's one of the incredible gay moments in the film.
Also, with Walter Brennan, Noah Beery Jr., Joanne Dru, and Coleen Gray – Both Dru and Gray are superb, and "Red River" impresses as one of the few Westerns with not just one but two very memorable female characters—cinematography (black and White) by Russell Harlan. The rousing score is by Dimitri Tiomkin.
NOW STREAMING ON AMAZON PRIME VIDEO AND ON APPLE TV+
15. Rope (1948)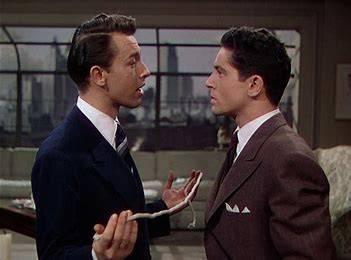 (APPROVED)
Filmed in 8 x 10-minute takes.
GAY CHARACTERS
*Rupert Cadell (James Stewart)
*Brandon Shaw (John Dall)
* Phillip Morgan (Farley Granger)
GAY ACTORS/WRITERS/DIRECTOR
ACTOR: Farley Granger
ACTOR: John Dall
Hitchcock's famous experiment could have evolved over coffee with Eisenstein.
The two great directors, having mastered the language of cinema many times over, now know that cinema is a marriage of two separate yet complementary entities.
1) mise-en-scene: the production design, costume design, the position of the camera, the movement of the camera in each scene, the part of the actors, and the direction of the actors in each location.
2) editing, or what you fashion from your mise-en-scene to make your movie.
But Hitchcock wants to know what a movie would be like if you eliminated editing and only had mise-en-scene. Would it be like a filmed play, taken by someone in the audience with a camera?
There is a problem, however, in that each film's roll only lasts 10 minutes. Hitchcock overcame this by backing the camera up to an inanimate object, such as furniture, and quickly changing the film.
Still, based on the Leopold and Loeb case, the story is irresistible. Granger and Dall are perfect, and Jimmy Stewart is also excellent, even if you think he may not have been in on the ruse!
The result: "Rope," based on Patrick Hamilton's play, is surprisingly good. However, you are always aware that Hitch is disabled by having half of the language of cinema taken away from him. It's like he's working with half a brain.
NOW STREAMING ON AMAZON PRIME VIDEO AND ON APPLE TV+
16. Kind Hearts and Coronets (1949)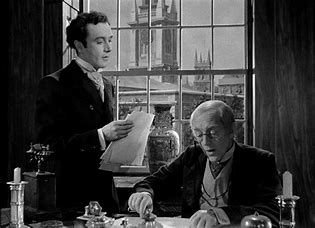 Robert Hamer
(Approved After Major Revisions)
GAY CHARACTER
*Lady Agatha D'Ascoyne (Alec Guinness)

GAY ACTORS/WRITERS/DIRECTOR
DIRECTOR: Robert Hamer
ACTOR: Alec Guinness
ACTOR: Dennis Price
It's my all-time favorite British movie. With exquisitely intelligent and stylish direction by Robert Hamer, it flows like dark chocolate over a mouthwatering sundae. It stars the deliciously urbane Dennis Price as a lowly draper's assistant. Finding himself distantly in line to a dukedom and infuriated by this aristocratic family's cruel treatment of his mother, he becomes a serial killer.
In other words, he sets out to systematically murder everyone ahead of him in line for the seat of D'Ascoyne. Alec Guinness has fun playing all eight of the unfortunate D'Ascoynes. This includes Lady Agatha D'Ascoyne, a militant suffragette whom Louis shoots down from her warm air balloon while she is distributing leaflets. Since this is the first in a series of posts on Queer Film, we must assume that Lady Agatha is most assuredly gay. Price, Guinness, and Hamer were all homosexuals, making this a very gay affair.
NOW STREAMING ON AMAZON PRIME VIDEO AND ON APPLE TV+
17. Adam's Rib (1949)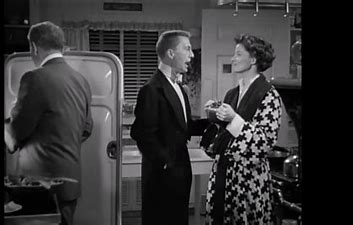 George Cukor
(APPROVED)
GAY CHARACTER
*Kip Lurie (David Wayne)
GAY ACTORS/WRITERS/DIRECTOR
DIRECTOR: George Cukor
ACTRESS: Katherine Hepburn
ACTRESS: Hope Emerson
Screenwriters Ruth Gordon and husband Garson Kanin populated their court case Tracy/Hepburn (Adam/Amanda) comedy with a bunch of great supporting characters played by the likes of Judy Holliday, Jean Hagen, Hope Emerson, Tom Ewell and, as Amanda's "gay best friend," David Wayne's Kip Lurie. Kip is their next-door neighbor and a Broadway composer.
Gay with his closely cropped hair (so fashionable today!) and flamboyant behavior, he is the constant butt of Adam's putdowns, such that it wouldn't be hard to turn Kip into a woman since he is halfway there already. Kip, nevertheless, pursues Amanda with dogged determination, to the point of composing a song especially for and about her, entitled "Farewell Amanda" (written by Cole Porter, no less). Thanks to Wayne's inspired performance, Kip is one of Hollywood's most memorable gay characters from the Hays code era.
NOW STREAMING ON AMAZON PRIME VIDEO AND ON APPLE TV+
18. All About Eve (1950)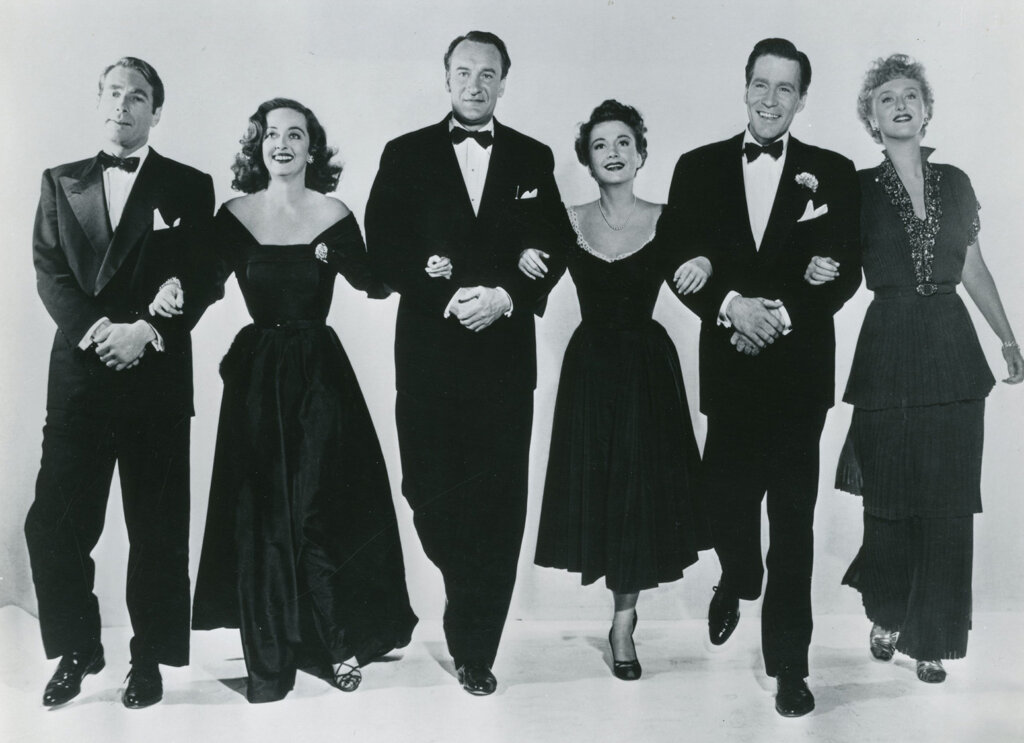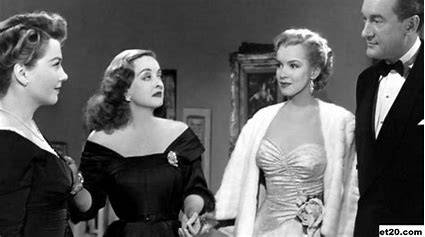 (APPROVED)
GAY CHARACTERS
*Eve Harrington (Anne Baxter)
*Addison DeWitt (George Saunders)
PRODUCER: Darryl F. Zanuck for TCF
A masterpiece from one of the greatest screenplays ever written (by Mankiewicz from Mary Orr's short story "The Wisdom of Eve") highlighting the greatest, the most cherished, the most quoted, and the most imitated performance of all time by Hollywood's greatest actress Bette Davis as Margo Channing.
With one of the greatest casts ever assembled for a motion picture: Left to Right pictured above: Gary Merrill, Bette Davis, George Sanders, Anne Baxter, Hugh Marlowe, and Celeste Holm. Also Featured were Thelma Ritter (getting the first of her six best supporting actress nominations), Gregory Ratoff, Barbara Bates, and, making quite an impression in her second major part (after "The Asphalt Jungle" over at MGM), Miss Marilyn Monroe.
Both Eve and Addison are gay.
Addison blackmails Eve, letting her know how much they have in common:
That I should want you at all suddenly strikes me as the height of improbability, but that, in itself, is probably the reason. You're an improbable person, Eve, and so am I. We have that in common. Also, a contempt for humanity, an inability to love and be loved, insatiable ambition – and talent. We deserve each other…and you realize, and you agree how completely you belong to me?

"All About Eve". Screenplay by Joseph L. Mankiewicz.
NOW STREAMING ON AMAZON PRIME VIDEO AND ON APPLE TV+
19. Caged (1950)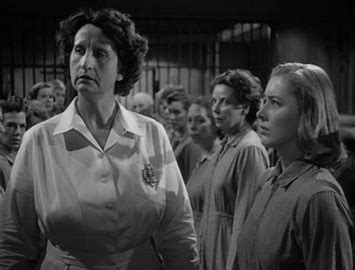 John Cromwell
(APPROVED)
GAY CHARACTERS
*Evelyn Harper, the sadistic matron (Hope Emerson)
*Kitty Stark, the murderous shoplifter (Betty Garde)
*Ruth Benton, the reformist prison superintendent (Agnes Moorhead)
GAY ACTORS/WRITERS/DIRECTOR
ACTRESS: Hope Emerson
ACTRESS: Agnes Moorehead
"Hype the New Fish" (Betty Garde on seeing Eleanor Parker for the first time)
Hollywood's first female prison movie with an innocent Eleanor Parker (Marie) up against all those old prison dykes! Oscar nominations for Parker and Hope Emerson as the sadistic warden. As you would expect, it has not dated well but can be enjoyed as camp, particularly the performances of Emerson and Betty Garde as the inmate who gives Marie the advice she needs to survive on the inside.
NOW STREAMING ON AMAZON PRIME VIDEO AND ON APPLE TV+
20. Young Man with a Horn (1950)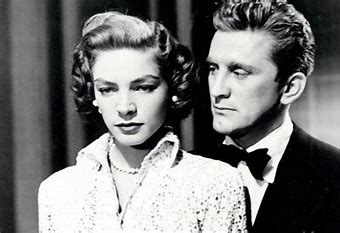 Michael Curtiz
(APPROVED)
GAY CHARACTER
*Amy North (Lauren Bacall)
Like "Mildred Pierce, "this is another Michael Curtiz movie that works equally well as drama and camp. Lauren Bacall is Kirk (a young man with a horn), Douglas' society wife, a closeted lesbian. But not for long! One evening, she brings home a beautiful and sophisticated date, Miss Carson (Katherine Kurasch, uncredited). Miss Carson is an artist, and Betty has been checking out her collection! Also, when Bacall makes the introduction, "This is my husband, Miss Carson, I told you about her," the placement of the three actors in the scene and the inflection in Bacall's voice makes it seem that it is Miss Carson who is Bacall's life partner, not Douglas. This time, Kirk has had enough. He clinches his teeth as only Kirk can and proclaims, "YOU'RE A SICK GIRL AMY," turns the other cheek, and runs off with a Warner 's-era Doris Day. Douglas' character is based on the famous trumpet player Bix Beiderbecke.
NOW STREAMING ON AMAZON PRIME VIDEO AND ON APPLE TV+
21. A Streetcar Named Desire (1951)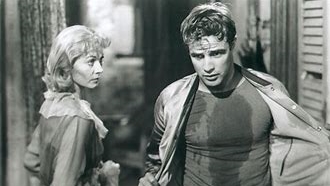 (APPROVED)
GAY CHARACTER
*The Boy, Blanche's late husband, committed suicide.
GAY ACTORS/WRITERS/DIRECTOR
ACTOR: Marlon Brando
PLAY AND ADAPTED SCREENPLAY: Tennessee Williams.
But I was unlucky. Deluded. There was something about the boy. A nervousness, a tenderness……an uncertainty. And I didn't understand. I didn't understand why this boy, who wrote poetry…..didn't seem able to do anything else. He lost every job. He came to me for help. I didn't know that. I didn't know anything…..except that I loved him…..unendurably. At night I pretended to sleep. I heard him crying. Crying the way a lost child cries.

Blanche DuBois: "A Streetcar Named Desire".
I killed him. One night…..we drove out to a place called Moon Lake Casino. We danced the Varsouviana. Suddenly, in the middle of the dance, the boy I married broke away from me…..and ran out of the casino. A few minutes later…..a shot. I ran. All did. All ran and gathered about the terrible thing at the edge of the lake. He'd stuck a revolver into his mouth…..and fired. It was because…..on the dance floor…..unable to stop myself, I'd said: "You're weak. I've lost respect for you. I despise you." And then…..the searchlight which had been turned on the world….was turned off again. And never…..for one moment since, has there been any light stronger than…Than this…..yellow lantern.

Blanche DuBois: "A Streetcar Named Desire".
NOW STREAMING ON AMAZON PRIME VIDEO AND ON APPLE TV+
22. Strangers on a Train (1951)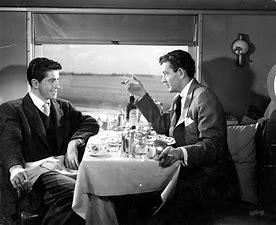 (APPROVED)
GAY CHARACTER
*Bruno Antony (Robert Walker)
GAY ACTORS/WRITERS/DIRECTOR
ACTOR: Farley Granger
Hitchcock reverses himself here, having gay actor Farley Granger play the straight character and straight actor Robert Walker play the gay character.

Unfortunately, Granger's character finds his happy ending in the arms of the not-so-great Ruth Roman, who, together with Anne Baxter (in "I Confess"), is honored to be Hitchcock's least favorite actress.
Walker died, aged thirty-two, a few weeks after the film's release.
NOW STREAMING ON AMAZON PRIME VIDEO AND ON APPLE TV+
23. Gentlemen Prefer Blondes (1953)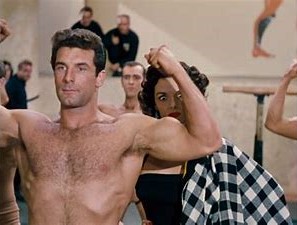 Howard Hawks
(APPROVED)
GAY CHARACTERS
*The Boys in the Gym.
Jane Russell cannot understand – but gives us the wink-wink that she does understand – why all the boys in the gym won't give her a second look. It's Howard Hawks again, this time adapting the Jule Stein/Leo Robin Broadway smash "Gentlemen Prefer Blondes," Russell is singing "Ain't There Anyone Here for Love." At the same time, the boys only have eyes for themselves and their buddies. Meanwhile, Marilyn is more interested in a certain kind of rock, leading to an even more spectacular musical number.
NOW STREAMING ON AMAZON PRIME VIDEO AND ON APPLE TV+
24. Johnny Guitar (1954)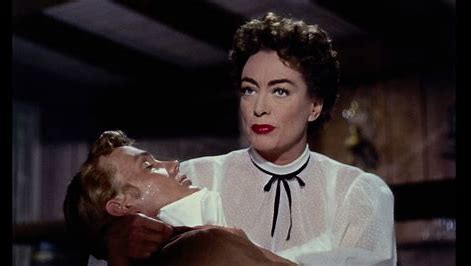 (APPROVED)
GAY CHARACTERS
*Emma Small (Mercedes McCambridge)
GAY ACTORS/WRITERS/DIRECTOR
DIRECTOR: Nicholas Ray

High camp on the range thanks to two of Hollywood's most dramatic thespians. A Western with two female leads is the rarest of cinematic jewels. Although both Crawford and McCambridge play to the gallery under Ray's ultra-mannered direction, this is essential viewing both as Queer Cinema and as part of the Ray canon.
NOW STREAMING ON AMAZON PRIME VIDEO AND APPLE TV+.
25. Rebel Without a Cause (1955)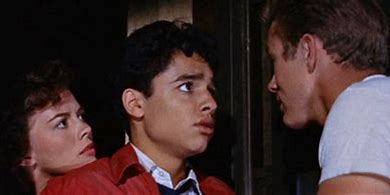 (APPROVED)
GAY CHARACTER
*Plato (Sal Mineo)

GAY ACTORS/WRITERS/DIRECTOR
DIRECTOR: Nicholas Ray
ACTOR: James Dean
ACTOR: Sal Mineo
ACTOR: Nick Adams
Sal Mineo's Plato is Hollywood's first adolescent gay character.
Wood, Dean, and Mineo form a nuclear family under the shadow of Griffith Park Observatory. Sal Mineo's Plato is Hollywood's first adolescent gay character. Dean's most emblematic performance under the soaring direction of Nicholas Ray. With Jim Backus and Ann Doran as Dean's parents, William Hopper as Wood's father, and future Oscar nominees Dennis Hopper and Nick Adams as part of the gang at the infamous "Chicken Run."
The stunning color cinematography is by the great Ernest Haller ("Gone with the Wind," "Mildred Pierce," "Whatever Happened to Baby Jane"?), and the original score is by Leonard Rosenman, who also scored Dean's other 1955 movie, Elia Kazan's "East of Eden" – he "invented" the Dean sound! The script, by Stuart Stern, was built around an original treatment by Irving Shulman and story concepts by Shulman and Ray. One of the quintessential LA movies.